a
World Naval Forces News - Brazil
Brazil could buy the 3 BAE System's OPV that were canceled by Trinidad and Tobago
The Brazilian Navy could soon announce the purchase of offshore patrol vessels to BAE Systems. These three vessels built for the Trinidad and Tobago Coast Guards were ordered in 2007 and then canceled in 2010 after a change of government. The Brazilian Navy would also buy an optional five extra vessels of the same type.

According to the Brazilian newspaper ALIDE, the purchase by the Brazilian Navy of three British-built OPV is about to be concluded. There were only a few points left to be addressed, such as offsets and financing.

Technical aspects have already been discussed while the political aspects are now the focus for the Brazilian Navy and the Brazilian Department of Defense.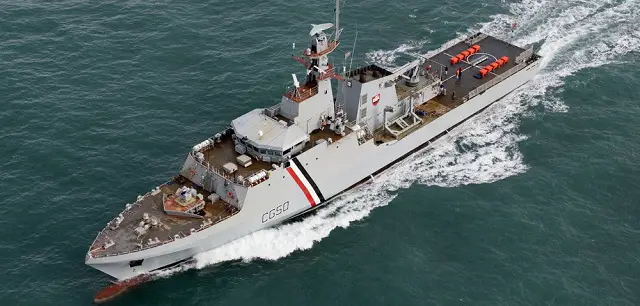 One of the three BAE System's "Port of Spain" class originaly ordered by Trinidad and Tobago
(picture: BAE Systems)
In additition to the 3 "used" OPV deal, Brazil could build under license from BAE Systems 5 additional units. A proposal that is said to appeal to Brazilian admirals.

The three "Port of Spain" class offshore patrol vessels have a displacement of 2.000t. They were built between 2008 and 2010 for the Trinidad and Tobago Coast Guards. The contract was signed in 2007 and canceled in 2010 by the newly elected government of the Caribbean island.

They have a length of 90.5 meters, a width of 13.5 meters and a crew complement of 60 sailors. They can reach 25 knots.