a
Naval Forces News - Belgium
Belgian Navy Frigate Léopold I (Karel Doorman class) out of dry dock following refit
Belgian Navy frigate Leopold I came out of drydock in Den Helder (Netherlands) this Thursday, August 9, 2012 following modernization and repair work conducted over a few months.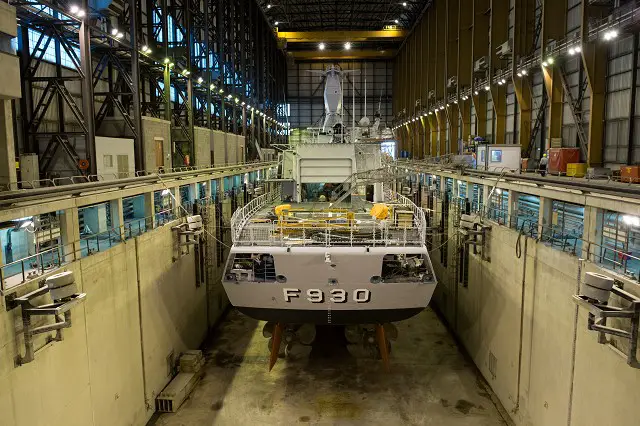 Leopold I Frigate in dry dock during refit
(Picture: Belgian Navy)

Since August 2011, the multi-role frigate was anchored in the Dutch marine base in order to undergo planned refit which is necessary to the life cycle of ships. During this period the vessel was also fitted with equipment to better meet its operational missions such as for example the fight against piracy. New means of detection have been added such as the Seastar and Gatekeeper sensor systems by Thales.
Seastar is a non-rotating active phased array radar for naval surface surveillance. The system automatically detects and tracks asymmetric threats and very small objects such as swimmers and periscopes in all weather conditions. Seastar can also be used for helicopter guidance.

Gatekeeper is a 360° panoramic electro-optical surveillance and alerter system based on IR/TV technology. Designed to counter emerging asymmetric threats down to small boats and swimmers, Gatekeeper increases short-range situational awareness in littoral environments.

The Belgian Navy Frigate Leopold I (F930) is a Karel Doorman class frigate. Prior to March 2007, the ship was known as the HNLMS Karel Doorman (F827). It is one of the two frigates of this class that was purchased by Belgium from the Netherlands in December 2005.

Frigates of this class displace 2,800 tonnes and measure 122 meters long. They can reach a maximum speed of 30 knots. They are equipped with 8 Harpoon anti-ship missiles, 16 RIM-7 Sea Sparrow surface-to-air missiles launched from VLS tubes, torpedoes for anti-submarine warfare. Their main gun is a 76mm by Oto Melara. Vessel of the class also have a Thales Goalkeeper Close-in Weapon System .