a
Naval Forces News - UK
BAE Systems awarded first Successor SSBN programme contracts, reveals first image of submarine
BAE Systems has been awarded contracts totalling £79m by the UK Ministry of Defence to begin procuring its first long lead items for the Vanguard Successor programme which will carry the nation's nuclear deterrent capability from 2028.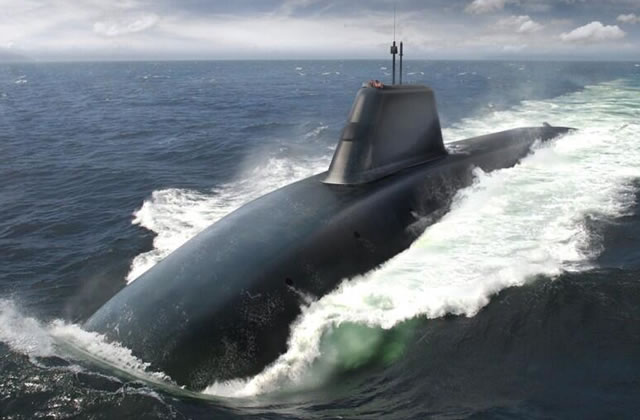 The first ever image to be released of the Successor submarine
Image: BAE Systems

The Secretary of State for Defence, Phillip Hammond, announced two contracts today, worth £47m and £32m, as the programme's annual report to parliament was published.
BAE Systems' previous two contract awards – for £328m and £315m respectively – were for the design of a replacement submarine, which is continuing today at its site in Barrow-in-Furness, Cumbria.
Tony Johns, Managing Director of BAE Systems Maritime – Submarines, said: "The award of these first procurement contracts is a significant milestone and further underlines the Government's commitment to BAE Systems and the submarine programme.
"The design of a nuclear powered submarine is incredibly complex and we continue to make good progress in the engineering phase of the programme. The first submarine is due to be in service by 2028, so to achieve that target it's essential we begin the procurement process now to ensure we can start construction on time."
Following the Government's announcement in May 2011 that the programme had passed its Initial Gate, it is now well into its third year of a five-year design and development phase, during which the submarine's concept design and operational requirements are being matured into a detailed design. The Main Gate decision is due in 2016.
BAE Systems is working on the design with the MoD, Rolls Royce and Babcock and combined the programme now employs over 2,000 people.
Approximately 1,300 are employed by BAE Systems and this number is due to rise. In 2014 BAE Systems plans to recruit upwards of 540 additional employees in a range of roles including Project Managers, Naval Architects, Propulsion Engineers, Test and Commissioning Engineers and Detailed Planners. This figure includes 240 apprentices, who will be recruited to work on both the remaining Astute Class submarines and the Successor programme.