a
Naval Defense Industry News - France, Turkey
Thales finalises delivery of MELTEM II CASA CN-235 maritime patrol aircraft to Turkey
Thales announces the delivery of the final standard for the maritime patrol aircraft to Turkey as part of the MELTEM II programme, for which Thales is the prime contractor. To this day, five of the six aircraft have been delivered to this standard, with the sixth set for delivery before the summer. This follows the three maritime surveillance aircraft which were sent to the Turkish coastguards last year.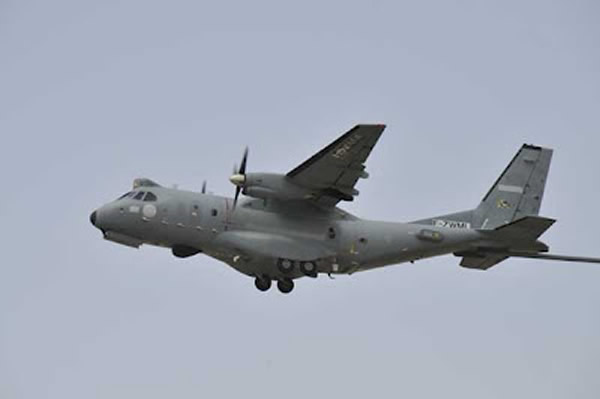 Turkish Navy MELTEM II CASA CN-235 MPA
Designed around a latest-generation integrated tactical command system, the AMASCOS solution ties together multiple sensors – radar, FLIR, ESM, acoustic system, AIS, MAD, SLAR radar, IR/UV scanner – to detect, identify and track threats, maintain real-time tactical situation awareness, manage NATO and national tactical datalinks and deploy onboard weapon systems.
(picture: internet)

A ceremony was held today at the Topel (Turkey) naval airbase to celebrate the official delivery of aircraft to the Turkish Navy in the presence of the Chief of Staff for the Turkish Navy, Mr Bülent Bostanoglu, as well as the Secretary of State for the Turkish Defence Industry (SSM), Mr Ismail Demir.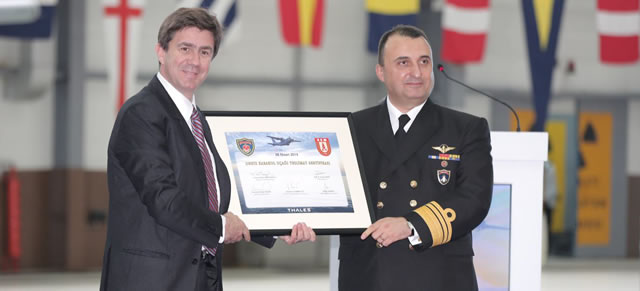 Delivery Ceremony. This major milestone marks the delivery of the final standard for the
maritime patrol aircraft and the delivery of all aircraft for the MELTEM II
programme.
(picture: Thales)

Pierre Eric Pommellet, Senior Vice President of Thales in charge of Defence Mission Systems, officially handed over the delivery certificate for the aircraft to the Chief of Staff of the Turkish Navy. On this occasion, he highlighted the "strong relationships that have been established throughout the programme with Turkish industry partners, TAI, Havelsan, Aselsan and Milsoft. These have enabled the success of this aircraft transformation programme and pave the way for future partnerships between Thales and the Turkish industry. We're focusing on developing this close cooperation and are very proud these maritime patrol aircraft reach a technological and operational standard of excellence. The Turkish Navy can now rely on Thales's state-of-the-art AMASCOS solution to conduct their maritime patrol missions."

The finalisation of this programme is a further testament to the maturity of the AMASCOS solution and consolidates Thales's position as a market leader in maritime patrol systems and as a world-class systems supplier and integrator, offering a wide range of mission systems to meet the specific requirements of armed forces.