a
Naval Forces News - USA
U.S. Navy Littoral Combat Ship USS Independence (LCS 2) Successfully Completes Special Trials
USS Independence
(LCS 2 ) successfully completed Special Trials (ST), a series of at-sea tests on Aug. 2, following the ship's participation in the multinational Rim of the Pacific (RIMPAC) exercises that took place throughout the month of July. Independence, funded as a research development test and evaluation ship, conducted an ST instead of the usual Final Contract Trial (FCT).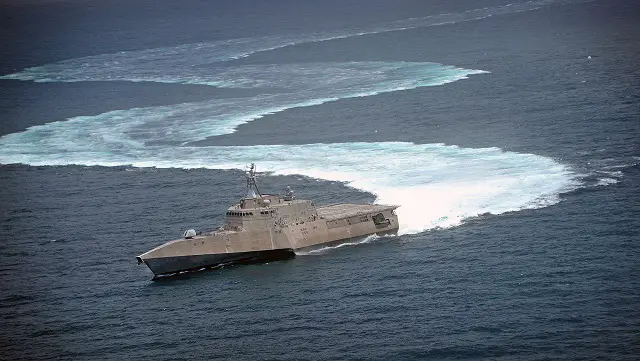 The littoral combat ship USS Independence (LCS 2) conducting full power propulsion and maneuvering tests in the Pacific Ocean off the coast of San Diego. (file U.S. Navy photo by Mass Communication Specialist 2nd Class Daniel M. Young/Released)

Traditionally funded ships have a specific time frame for when FCT must take place, to identify issues or deficiencies to be corrected before the vessel is officially turned over to the U.S. Navy. Independence was commissioned in January 2010, and has already undergone several maintenance availabilities to correct issues uncovered in testing and operation. A similar ST was previously carried out with USS Freedom (LCS 1) in May 2012.

The successful ST for LCS 2 was conducted off the Hawaiian coast where the ship underwent a series of specific tests under the supervision of the Board of Inspection and Survey (INSURV). Specific tests included; anchoring, launch and recovery of Rigid Hull Inflatable Boats, firing exercises using the 57mm gun, and full power propulsion and maneuvering tests.

Littoral Combat Ship USS Independence (LCS 2) firing with its BAE Systems Bofors Mk 110 57mm main gun during the Special Trials on August 2nd 2014. Picture: U.S. Navy

"This was a well-executed trial and a positive validation of the capability embedded in this ship. With this good RIMPAC and INSURV performance, our Navy should rightly be bullish on the LCS," said Rear Adm. Jeff Harley, president of INSURV.
"This was a great opportunity for me, as the builder of future littoral combat ships, to see this first-of-class ship with nearly five years of time in service be put through her paces," said Capt. Tom Anderson, LCS program manager. "Both the ship and her crew performed superbly."
LCS 2 is a trimaran-hulled small surface combatant built for high speed, which can conduct agile and mission-focused operations in the complex littoral environment. Built by Austal USA, the Independence variant of LCS can be rapidly reconfigured with specific Mission Modules to conduct Surface Warfare, Mine Countermeasures and Anti-submarine warfare.
Link to Independence class Littoral Combat Ship technical datasheet