a
Naval Industry News - South Korea
STX launched the 4th Incheon class frigate (FFX) ROKS Gangwon Ham for ROK Navy
The fourth
Incheon class FFG
(Guided Missile Frigate), 'Gangwon Ham', to protect South Korea territorial waters, was launched at a shipyard of STX Offshore & Shipbuilding in Changwon, Gyeongsangnam-do on August 12. The launch ceremony was attended by Gangwon Province Governor Choi Mun-sun as the guest of honor, Vice Admiral Eom Hyun-sung, the vice chief of naval operations, navy sailors, the CEO of STX Offshore & Shipbuilding Jung Sung-leep and other shipyard-related officials.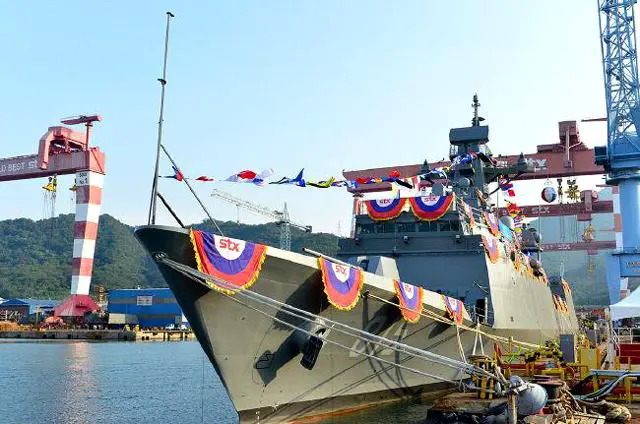 ROKS Gangwon Ham
Picture: ROK Navy
Rear Admiral Choi Yang-sun, the first deputy chief of staff for planning and management in the Navy Headquarters, named the fourth frigate 'Gangwon' and assigned '814' as the ship number through the denomination No.460.

The ROK Navy named the fourth frigate 'Gangwon,' with the will to provide a total defense of the East Sea. The next frigates have been named after the metropolitan city, province and the seat of a provincial government.
Incheon class Frigate
Picture: Jager
Gangwon Ham, which is in the 2,300-ton class, is 114m in length, 14m in width and 25m in height. Its maximum speed is up to 30 knots (55.5km/h), and it can hold about 120 sailors. Its main duty is to defend areas of the sea, secure the maritime control and protect sea traffic routes.

It is equipped with domestic offensive weapons such as ship-to-ship guided missile, Haeseong, and the submarine killer light torpedo, Chung Sang Eo, including a 5-inch(127mm) main gun. Having RAM(Rolling Airframe Missile) and CIWS(Closed in Weapon System), which is capable of intercepting an antiship missile, it has the best level of defense.

It is also expected to make a great contribution to countering the North Korean threat with its excellent antisubmarine warfare, as it is equipped with TACM(Torpedo Acoustic Counter Measure), which can trick the latest sonar or torpedoes, and 1 LYNX. In addition, it applies the stealth method to the body of the ship, which minimizes the radar cross-section, to increase the survival of the ship and of its sailors as well.

The rate of domestic main equipment, in particular, is far beyond 90%, and includes 3D track and scan radar, Sonar, medium long-range tactical strike weapons system, etc.

The Gangwon Ham will be handed over in the second half of 2015 after going through a period of acceptance evaluation and successfully completing a 4-month force integration process, and the navy is going to deploy the ship in 2016.

"The next frigate will allow our defense ability for near sea to be improved so that North Korean threats can be deterred. If the enemy provokes us, we'll instantly punish them and bury them at sea," said a navy spokesperson.