a
Naval Defense Industry News - Canada, UK, New Zealand
Ultra Electronics to Supply Sea Sentor Torpedo Defence systems to Royal New Zealand Navy
Ultra Electronics Maritime Systems Inc. (Ultra) is pleased to announce that it will supply towed arrays to its sister company, UK-based Ultra Electronics Sonar Systems, that will ultimately be used by the Royal New Zealand Navy (RNZN), as reported on 21st July 2014.
Sea Sentor Surface Ship Torpedo Defence system in action
The Sonar Systems business announced a contract valued at approximately $18M (CAD) to supply two Sea Sentor Surface Ship Torpedo Defence systems for the RNZN Frigate Systems Upgrade (FSU) programme. Ultra's towed array is the key acoustic sensor for Sea Sentor, a system installed in naval ships to detect, classify and localize incoming torpedoes, and to activate countermeasures against them.

Ultra designs, develops, and manufactures various towed arrays for surface ships and submarines at its facility in Dartmouth, Nova Scotia, Canada. New Zealand joins Canada, the UK, Australia, The Netherlands, and Turkey in the company's portfolio of international customers

Ken Walker, president of Ultra, commented: "I am very proud to be extending our made in Canada solutions deeper into international waters with the Royal New Zealand Navy. This contract is proof that Ultra continues to provide world-class sonar systems."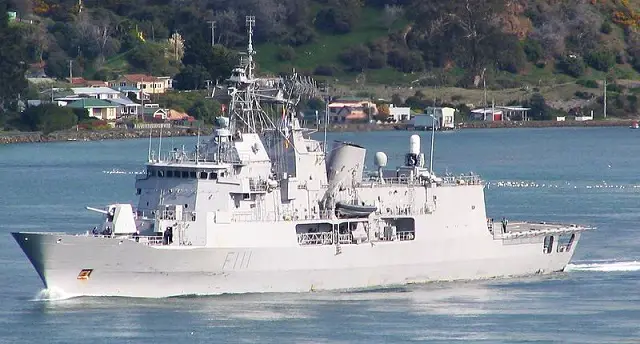 HMNZS Te Mana (F111) is one of ten Anzac class frigates
and one of two serving in the Royal New Zealand Navy.
(picture: Benchill)
The SEA SENTOR™ Surface Ship Torpedo Defense system has been in-service since October 2004, protecting fleets from the increased threat of torpedo attack. With 16 systems delivered to the UK's Royal Navy, installations on US naval platforms and a recent order by the Turkish Navy, SEA SENTOR™ is the most advanced system available in the market today.

The SEA SENTOR™ system utilizes a towed acoustic passive array especially designed for the detection of torpedoes to classify and localize in-water threats. Tactical advice is presented by the system that is specifically geared to the make, model and current operating mode of the detected threats – single or salvo. Detection ranges to initiate successful defeating tactics are achieved in all conditions; whether operating solo in deep water or in-convoy in busy shipping lanes and littoral waters Countermeasure action is automatically performed according to the tactical advice for the towed system elements. Expendable countermeasures are launched by the operator when prompted to do so.
Ultra Electronics Sea Sentor video