a
Naval Forces News - Russia
Second Project 636.3 Varshavyanka class SSK Enters Service with Russian Navy Black Sea Fleet
"Rostov-on-Don" (B-237), the second Project 636.3 (or Varshavyanka class) diesel-electric submarine (SSK) designed for the Russian Black Sea Fleet was officially taken into naval service, an official of Admiralty Wharfs told Russian news agency ITAR-TASS on Tuesday.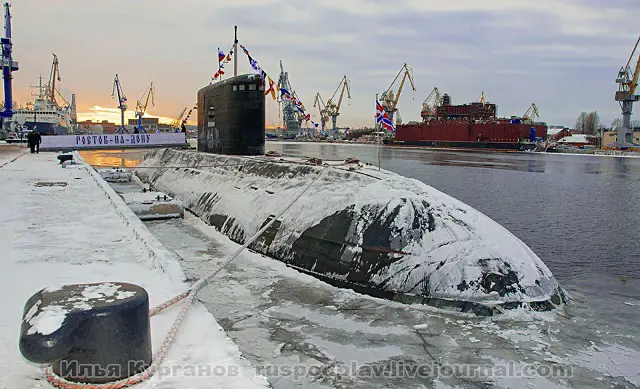 Rostov-on-Don (B-237) Project 636.3 submarine commissioned at Admiralty Shipyards in Saint Petersburg on Tuesday. This new SSK for the Black Sea Fleet will later be rattached to the new 4th Submarine Brigade homeported to Novorossyysk. Picture: ruspodplav
The St. Andrew naval flag was hoisted on the submarine on Tuesday, from this moment it is considered officially taken into combat service of the Russian Navy.

"The Russian Navy chief commander's decree was read out to enrol Rostov-on-Don in the 4th separate brigade of the Black Sea Fleet with a base in [southern Russia's Krasnodar territory] the city of Novorossiisk," the official said.

Russia's Navy Assistant Chief Commander Vice-Admiral Alexander Fedotenkov and Admiralty Wharfs chief Alexander Buzakov participated in the ceremony.

The first submarine of this series, the Novorossiisk, was brought into service earlier this year. Before dispatching to the Black Sea (expected in May 2015) it is taking additional deepwater trials in the North. Six Project 636.3 submarines, also known as Varshavyanka, are planned to be build for the Black Sea Fleet by 2016.