a
Naval News - Vietnam
Vietnamese homemade mini-submarine passed first trials successfully
After one week on trial, a private mini-submarine made by a Vietnamese mechanic can now work perfectly with its full functions. Nguyen Quoc Hoa, the one who performed the mini-submarine production, said on Local Lao Dong (Labor) online newspaper Thursday that machinery parts inside the mini-submarine operates well as originally designed.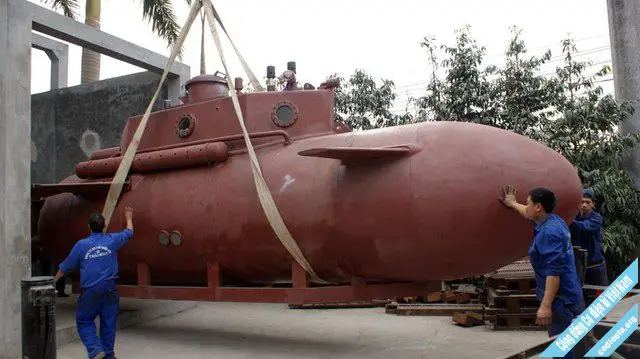 Vietnamese homemade submarine
"Successful tests have been carried out with internal engines of the mini-vessel, including generator system, oxygen supply system, air filter and radar system," said Hoa.
Specifically, the submarine managed to apply the advanced Air Independent Propulsion technology while diving, Hoa added.
Hoa, a director of an engineering company in Vietnam's northern Thai Binh province, some 110 km southeast from capital Hanoi, started to produce a mini-submarine in early 2013.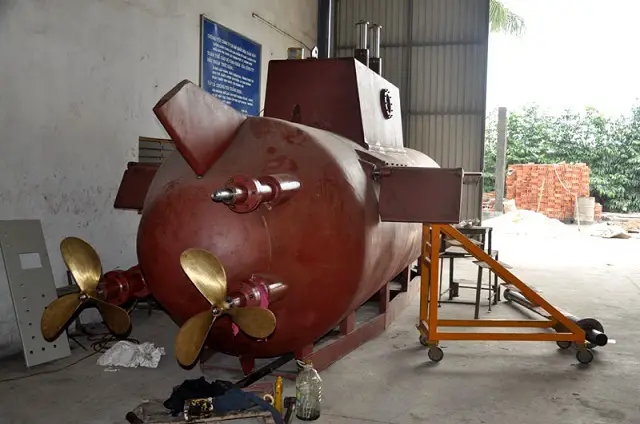 Vietnamese homemade submarine
According to Hoa's design, the submarine has a 12-ton displacement, and is able to operate at a maximum depth of 50 meters and at a range of 800 km for 15 hours.
The testing mini-submarine is designed to work at estuaries or shallow water level for civilian purposes of marine natural resources research, and environmental protection, said Hoa.