a
Naval Forces News - New Zealand
Royal New Zealand Navy seeking new tanker to support Pacific Defense Operations

The Royal New Zealand Navy is to buy a new tanker vessel that will enable the New Zealand Defence Force ( NZDF) to expand the scope of its operations in the South Pacific, Defence Minister Jonathan Coleman said Wednesday. The new vessel would replace the navy's current tanker, HMNZS Endeavour, which would reach the end of its service life in 2018 and would fail to comply with new international maritime regulations, Coleman said in a statement.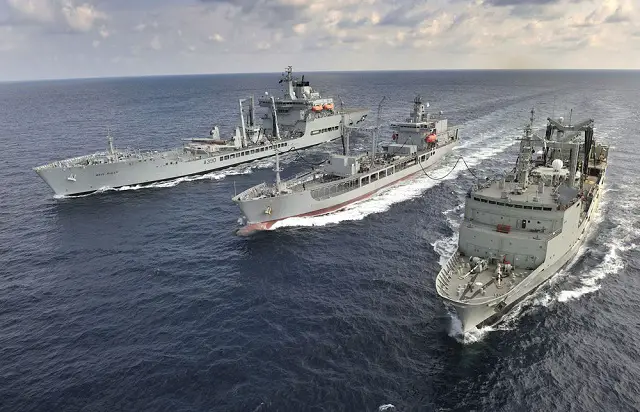 HMNZS Endeavour underway between RFA Wave Ruler to starboard (right), and HMAS Success to Port (left). Picture: Royal New Zealand Navy
"To operate effectively the NZDF needs to provide fuel and logistical support to its deployed ships, helicopters and vehicles, " said Coleman.

"This capability is crucial given New Zealand's vast maritime area, and our security and disaster relief responsibilities in the South Pacific. Without it NZDF operations would be limited in duration or dependent on our partners," he said.

"The new tanker will be a significant enhancement in capability. It will increase the NZDF's ability to support and sustain navy, army and air force operations at home and further afield."

The tanker would be able to store a large amount of fuel, including aviation fuel, supplies and ammunition, and accommodate an NH90 or Seasprite helicopter.

The capability was needed as the NZDF had more ships that could embark new helicopters, and it was crucial that the tanker could support the NZDF's Joint Task Force.

"Possible winterisation features will also be considered which could enable the tanker to resupply bases in Antarctica," said Coleman.

The request for tenders was expected to be issued by the ministry of defence in early 2015, and a final recommendation would be made to the government in mid-2016.