a
Naval Forces News - Australia
Royal Australian Navy MH-60R 'Romeo' helicopter fires AGM-114 Hellfire missile for the 1st time
The Royal Australian Navy's newest maritime combat helicopter, the MH-60R Seahawk 'Romeo', has successfully fired its first 'Hellfire' missile in the United States. The AGM-114 Hellfire air-to-surface missile was fired by Navy's 725 Squadron from aircraft currently deployed to the United States Navy's Atlantic Undersea Test and Evaluation Centre off the Florida coast.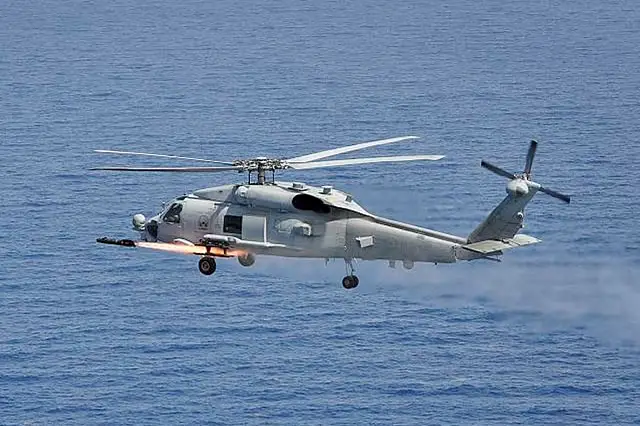 Royal Australian Navy MH-60R 'Romeo' helicopter fires AGM-114 Hellfire missile for the 1st time
Commander Australian Fleet, Rear Admiral Stuart Mayer, said the Seahawk Romeo's cutting edge mission systems provided a formidable naval platform.
"Navy's next generation submarine hunter and anti-surface warfare helicopter will be the cornerstone of our working Navy's aviation combat capability.
"The new aircraft's multi-mission and multi-target precision strike capabilities will increase our versatility and potency as a high-end fighting force," RADM Mayer said.
The head of the Helicopter and Guided Weapons Division in the Defence Materiel Organisation, Rear Admiral Tony Dalton, said the successful Hellfire missile firing was a major milestone in delivering Defence's Project AIR 9000 Phase 8.
"This $3.2 billion acquisition program is providing Navy with a state-of-the-art, helicopter based war-fighting capability–our journey through production, acceptance and now testing of the aircraft's major weapon systems has been steady, effective, ahead of schedule, and on budget.
"The Seahawk Romeo is a quantum leap over Navy's current combat helicopter force–both in numbers and capability," RADM Dalton said.
Defence took delivery of the first two of 24 Seahawk Romeos in the United States in December 2013 at Lockheed Martin's Mission Systems Facility in Owego, New York. Two more aircraft were accepted in February 2014.
All four aircraft are being operated by Navy's 725 Squadron alongside three US Navy Seahawk Romeo squadrons based out of the US Navy's Jacksonville air station in Florida.
Ultimately, two Seahawk Romeo squadrons will be home based at Navy's Nowra, New South Wales, air station, with 725 Squadron conducting Seahawk Romeo training and 816 Squadron flying the Seahawk Romeo from Navy's ANZAC Class frigates and the new Hobart Class destroyers.
A further two MH-60R will be delivered in October 2014. Deliveries will continue during 2015 with the 24th and final aircraft being delivered in 2016. 725 Squadron personnel and their aircraft will be brought home to Australia at the end of 2014.
Royal Australian Navy video