a
Naval Forces News - Ireland
First Babcock-built Irish Naval Service Offshore Patrol Vessel named and commissioned
The first-of-class LÈ Samuel Becket was named by Mrs Caroline Murphy, a niece of Samuel Beckett, in Dublin this weekend alongside the Samuel Beckett Bridge. The naming was followed by the commissioning ceremony which was led by Mr Enda Kenny TD, Irish Prime Minister (An Taoiseach) and Minister for Defence, who made the main speech.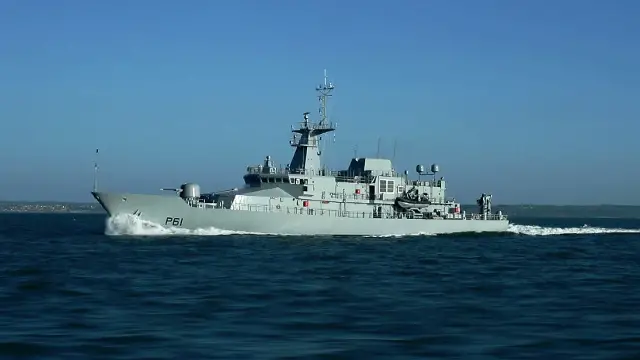 The first of the Irish Offshore Patrol Vessels (OPVs) being built by Babcock for the Irish Naval Service has been officially named and commissioned May 17 2014, following successful completion of sea trials and handover at Babcock's Appledore shipyard in North Devon at the end of April 2014.

LÈ Samuel Becket will be operational with immediate effect undertaking a range of duties including fishery protection, search and rescue, anti-pollution and maritime security duties, including vessel boardings. To conduct these operations a crew of 44, plus ten trainee berths, are accommodated to high comfort and habitability standards.

The approx 90 metre, 2256 tonne OPV has autonomous engine rooms and is capable of a top speed of 23 knots, and a range of 6,000 nautical miles at its cruise speed of 15 knots on a single engine. The propulsion system utilises a diesel electric drive system providing a loiter function of up to 6 knots. A comprehensive command, control and communications package is coupled to the main weapon; a 76mm gun, as well as two 20mm cannons and four general purpose machine guns. The vessel is also equipped with configurable, serviced mission modules, with deck space to operate mission specific equipment, and to act as a mother ship for two fully independent fast pursuit Rigid Hulled Inflatable Boats (RIBs). It is designed to provide an operational capability for many years of service in the North Atlantic, its main area of operation.

Commenting on the completion and handover Babcock Shipbuilding Director, Andrew Hamilton, said: "We are delighted and proud to have successfully built, trialled and delivered this first of class OPV to the Irish Naval Service. The success of this project has been brought about by the close co-operation of our customer, suppliers and industry. LÈ Samuel Beckett demonstrates that a commercial build coupled with commercial off the shelf equipment can give a high level of capability within the budgeted cost."

LÈ Samuel Becket is the first of two such OPVs being built by Babcock for the Irish Naval Service at Appledore (where Ireland's current OPVs LÈ Roisin and Niamh were also built in the late 1990s - early 2000s). Keel laying for the second OPV took place in November last year, with float-up scheduled for early November 2014 and sea trials and delivery taking place in early 2015.