a
Naval Defense Industry News - USA, India
Boeing Delivers 4th P-8I Maritime Patrol Aircraft to Indian Navy
Boeing has delivered the fourth P-8I maritime patrol aircraft to India on schedule, fulfilling the first half of a contract for eight aircraft. The aircraft departed from Boeing Field in Seattle and arrived May 21 at Naval Air Station Rajali, where it joined three P-8Is currently undergoing operational evaluation.

"This marks an important milestone – the halfway point for P-8I deliveries to India," said Dennis Swanson, BDS vice president in India. "The program's success the past year is really a testament to the great work between Boeing, the Indian Navy and industry."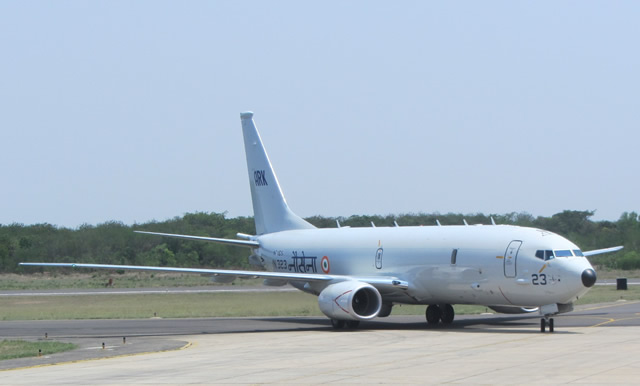 The fourth P-8I maritime patrol aircraft arrived May 21 at Naval Air Station Rajali in India
(Picture: Boeing)
Based on the company's Next-Generation 737 commercial airplane, the P-8I is the Indian Navy variant of the P-8A Poseidon that Boeing has developed for the U.S. Navy.
"The Indian Navy is putting the first three P-8Is through their paces operationally, and the P-8I delivered today will begin flight trials in the coming months," said Leland Wight, Boeing P-8I program manager.
The P-8I incorporates not only India-unique design features, but also India-built subsystems that are tailored to the country's maritime patrol requirements. In order to efficiently design and build the P-8I and the P-8A, the Boeing-led team is using a first-in-industry, in-line production process that draws on the company's Next-Generation 737 production system.
The P-8I features open system architecture, advanced sensor and display technologies, and a worldwide base of suppliers, parts and support equipment. P-8I aircraft are built by a Boeing-led industry team that includes CFM International, Northrop Grumman, Raytheon, Spirit AeroSystems, BAE Systems and GE Aviation.
Link to Boeing P-8A Poseidon Maritime Patrol Aircraft technical datasheet