a
Naval Forces News - France
French Navy Lafayette Frigate Salvo Fires Two MM40 Block II Exocet Anti-Ship Missiles
The French Navy announced its
Lafayette frigate
(first ship of the class) salvo fired two MBDA made MM40 Block II Exocet anti-ship missile in a test earlier this week. Both missiles hit their targets with high accuracy, showing the expertise of the French Navy to implement and maintain a complex weapons system for high-intensity conflict.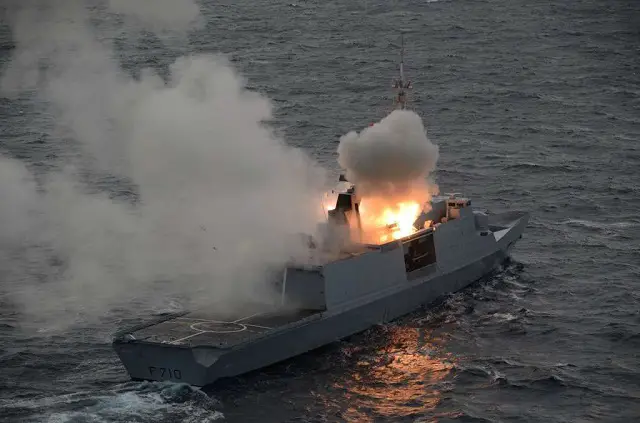 The French Navy Lafayette frigate (designated light stealth frigate in the French Navy) is seen here launching its salvo of two MM40 Block II anti-ship missiles. Picture: French Navy

Contacted by Navy Recognition, a French Navy public affairs officer said the goal of the test was to train the crew in anti-surface warfare (ASUW) in general, and to maintain the skills of the French Navy in deploying the Exocet anti-ship missile in particular.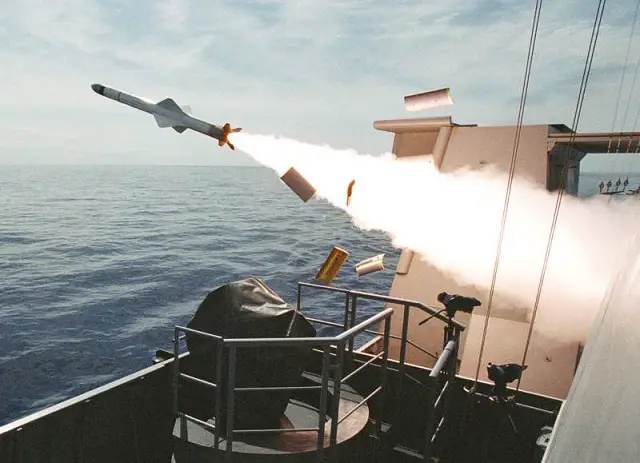 File picture: An MBDA Exocet MM40 Block II during launch

The French Navy describes the MM40 Block II as an "over the horizon" missile. It is the main ASUW weapon on board the
Cassard class (F70AA)
,
Leygues class (F70 ASM)
, and
Lafayette class
frigates.
Main specifications of the missile:
Length : 5,20 m
Diameter : 0,35 m
Weight : 735 kg
Warhead : 165 kg
Speed : Mach 1
Range : 70 km
Exocet, in production since 1972, was the West's first long range anti-ship missile with "fire and forget" and sea-skimming flight capabilities. Since entering service in 1972, 3,600 EXOCET missiles, in all configurations, have been sold to 35 countries.
The MM40 Block II onboard Lafayette class frigates will ultimatly be replaced by the newer Block III version currently under production by MBDA. The Block III features many improvements: It is fitted with a booster and has a significantly extended operational range making it a 200 km class weapon and features open ocean, littoral and coastal land attack capabilities. The new Block III is compatible with Block II launchers.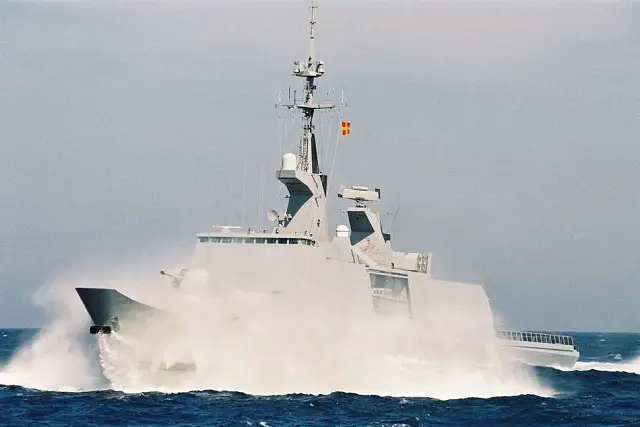 Lafayette frigate. Picture: Marine Nationale / Emmanuel Rathelot

The French Navy's La Fayette Class multipurpose stealth frigates were developed and built by DCNS. The French Navy awarded DCNS the contracts to construct the La Fayette (F710), Surcouff (F711) and Courbet (F712) frigates in 1988, and Aconit (F713) and Guepratte (F714) in 1992.
The La Fayette Class incorporates a number of stealth features – the sides of the vessel are sloped at 10° to minimize radar cross section, surfaces are made of alloy, reinforced plastic and kevlar. The profiles of external features have been reduced.
To learn more:
Link to Lafayette class Frigate technical datasheet