a
Naval Force News - Canada
Royal Canadian Navy Successfully Completes Modernization of First Four Halifax class Frigates
The first four of the Royal Canadian Navy's Halifax-class frigates have successfully completed modernization programs. The Halifax-class modernization/frigate equipment life extension (HCM/FELEX) is a $4.3 billion program to upgrade and enhance the existing fleet. The program has remained on budget and is scheduled to be completed by 2018.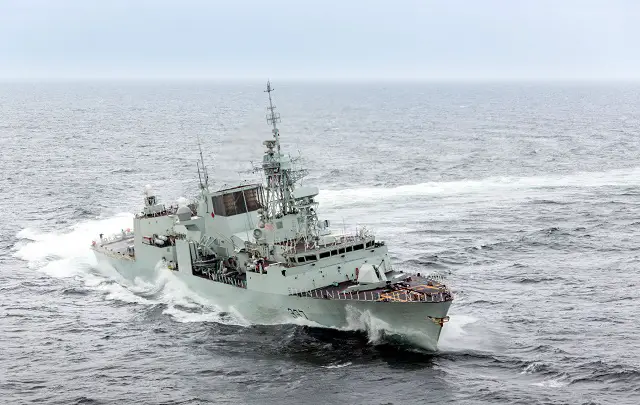 The first four frigates to be modernized as part of the HCM/FELEX are Her Majesty's Canadian Ships Halifax, Fredericton, Calgary and Winnipeg. Following recent sea trials, Fredericton is currently preparing to deploy as the first modernized frigate at high readiness in early 2015. Note the freshly installed Thales Smart-S Mk2 radar. Picture: RCN
As the Royal Canadian Navy (RCN) undergoes its most extensive peacetime modernization in history, the 12 Canadian-built multi-role patrol frigates will continue to form the backbone of the fleet.

"Our Canadian Armed Forces deserve the right equipment to perform the difficult tasks asked of them," said Rob Nicholson, Minister of National Defence. "Our Government is proud to support the men and women of our Royal Canadian Navy. I am very pleased to see the fruition of the Halifax-class modernization project, which will ensure our frigates remain effective. As the backbone of the RCN, these Canadian-built Halifax-class vessels are able to deploy anywhere in the world. This is great news for Atlantic Canada and for all of Canada."

Commissioned between 1992 and 1996, the Halifax-class is currently undergoing a planned mid-life modernization that includes a new Combat Management System, new radar capability, a new electronic warfare system, upgraded communications and missiles, as well as a new Integrated Platform Management System.

Along with the modernization of its frigates, three new classes of ships are undergoing procurement, including Joint Support Ships, Arctic/Offshore Patrol Ships and Canadian Surface Combatants, as well as the integration of new maritime helicopter into fleet service.

"The modernization of Halifax-class frigates will serve as a bridge to the future fleet and, along with Kingston-class maritime coastal defence vessels and Victoria-class submarines, will allow the RCN to continue to deliver on its core mission as directed by the Government of Canada until the arrival of the new Canadian surface combatant," said Vice-Admiral Mark Norman, Commander RCN.