a
Naval Forces News - USA
U.S. Navy deploys LaWS Laser Weapon System on board USS Ponce in the Persian Gulf
The U.S. Navy has deployed the LaWS Laser Weapon System prototype for operational testing on board the USS Ponce (AFSB(I)-15, interim Afloat Forward Staging Base) in the Persian Gulf. The at-sea demonstration onboard USS Ponce is part of a wider portfolio of near-term U.S. Navy directed energy programs that promise rapid fielding, demonstration and prototyping efforts for shipboard, airborne and ground systems.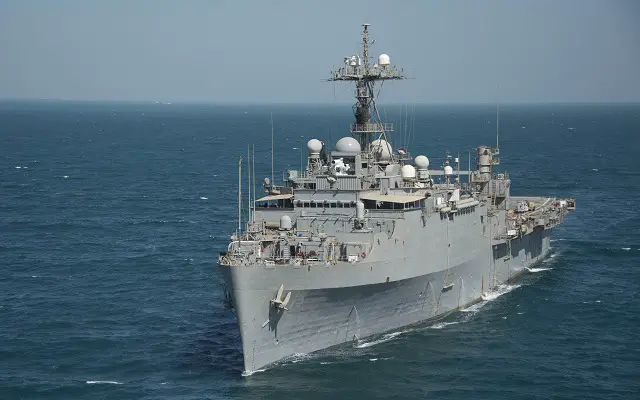 ARABIAN GULF (Sept. 25, 2014) The afloat forward staging base (interim) USS Ponce (AFSB(I) 15) transits the Arabian Gulf. Ponce is equipped with the Laser Weapon System (LaWS), a technology demonstrator built by Naval Sea Systems Command from commercial fiber solid-state lasers. The system utilizes combination methods developed at the Naval Research Laboratory to successfully shoot down a target. LaWS can be directed onto targets from the radar track obtained from an MK 15 Phalanx Close-In Weapon System or other targeting source. This capability provides ships with a method to easily defeat small boat threats and aerial targets without using bullets. (U.S. Navy photo by Mass Communication Specialist 2nd Class Daniel M. Young/Released)

The 30 kW solid-state laser (SSL) weapon system was developed by the Naval Sea Systems Command (NAVSEA). Officials consider the solid-state laser a revolutionary technology that gives the Navy an extremely affordable, multi-mission weapon with a deep magazine and unmatched precision, targeting and control functions. Because lasers run on electricity, they can be fired as long as there is power and provide a measure of safety as they don't require carrying propellants and explosives aboard ships.

The U.S. Navy already has demonstrated the effectiveness of lasers in a variety of maritime settings. In a 2011 demonstration, a laser was used to defeat multiple small boat threats from a destroyer. In 2012, LaWS downed several unmanned aircraft in tests.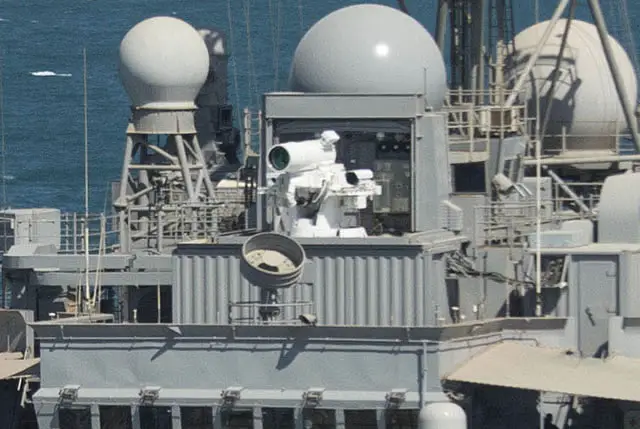 Detailed view of the LaWS fitted on top of the bridge on board USS Ponce

Over the past several months, working under the ONR Quick Reaction Capability program, a team of Navy engineers and scientists have upgraded LaWS, and proved that targets tracked with a Phalanx Close-In Weapon can be easily handed over to the laser's targeting and tracking system. The result is a weapon system with a single laser weapon control console, manned by a surface warfare weapons officer aboard USS Ponce who can operate all functions of the laser-and if commanded, fire the laser weapon.

Using a video game-like controller, that sailor will be able to manage the laser's power to accomplish a range of effects against a threat, from disabling to complete destruction.

The deployment on Ponce will prove crucial as the Navy continues its push to provide laser weapons to the fleet at large.

Data regarding accuracy, lethality and other factors from the Ponce deployment will guide the development of even more capable weapons under ONR's Solid-State Laser - Technology Maturation program. Under this program, industry teams led by Northrop Grumman, BAE Systems and Raytheon Corp. have been selected to develop cost-effective, combat-ready laser prototypes that could be installed on vessels such as guided-missile destroyers and the Littoral Combat Ship in 2016.

The U.S. Navy will decide next year which, if any, of the three industry prototypes are suitable to move forward and begin initial ship installation for further testing.

"We are in the midst of a pivotal transition with a technology that will keep our Sailors and Marines safe and well-defended for years to come," said Peter Morrison, ONR program manager for SSL-TM. "We believe the deployment on Ponce and SSL-TM will pave the way for a future acquisition program of record so we can provide this capability across the fleet."
Video showing the LaWS in action on board USS Ponce