a
Naval Forces News - Australia
Royal Australian Navy Commissioned new Landing Helicopter Dock HMAS Canberra
Governor General of Australia, His Excellency General the Honourable Sir Peter Cosgrove, AK, MC (Retd), together with the Prime Minister of Australia, the Hon Mr Tony Abbott, MP, were the guests of honour today as Australia's first Landing Helicopter Dock (LHD) was welcomed into service in the Royal Australian Navy. The Australian White Ensign was raised for the first time, signaling that HMAS Canberra III was formally commissioned into the Fleet.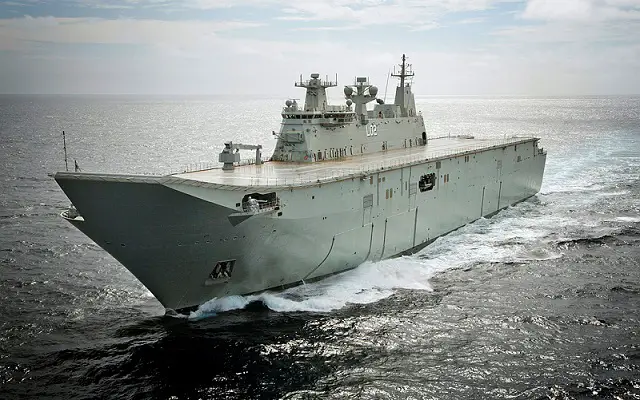 The largest ship ever built for the Royal Australian Navy, Landing Helicopter Dock HMAS Canberra
Picture: Royal Australian Navy
Navy, Army and Air Force members of ship's company lined the aircraft hangar as invited guests witnessed the historic event.

Chief of Navy, Vice Admiral Tim Barrett, AO, CSC, RAN, said the commissioning was a step towards developing the future of the Navy.

"HMAS Canberra is an exciting addition to the Royal Australian Navy. This very capable ship will serve the nation well for decades to come," he said.

Commanding Officer, Captain Jonathan Sadleir, AM, RAN, said it was also a significant moment for the tri-service ship's company who had been training for months in preparation for the introduction of the LHD.

"It was a proud and emotional experience for me to stand with 400 exceptional members of my crew today.

"Through the efforts of many organizations, this outstanding ship is now a reality," Capt Sadleir said.

The ship brings a significant increase in amphibious potential to the Australian Defence Force.

"We know it's an awesome ship with huge capability, but the next step is to go to sea and test procedures, refine and consolidate, so we can be ready when the nation needs us," he said.

HMAS Canberra will proceed to sea in the coming weeks for a period of training and assessment for the crew.

Canberra is first of two LHDs to be introduced into the Navy. The ship is expected to used for diverse tasking such as humanitarian assistance, disaster relief and amphibious operations.

Canberra is capable of embarking more than 1000 troops and associated cargo which can be landed ashore by helicopters or state of the art landing craft.

She is the third ship to bear the name.