a
Naval Forces News - France
French Navy L'Adroit OPV Joins EUNAVFOR's Atalanta Anti-Piracy Mission in Indian Ocean
The French Navy (Marine Nationale) announced that the L'Adroit Offshore Patrol Vessel (OPV) joined the European Union Naval Force (EU NAVFOR) Somalia – Operation Atalanta. For one month, the OPV will patrol the waters between the horn of Africa (Djibouti) and Madagascar.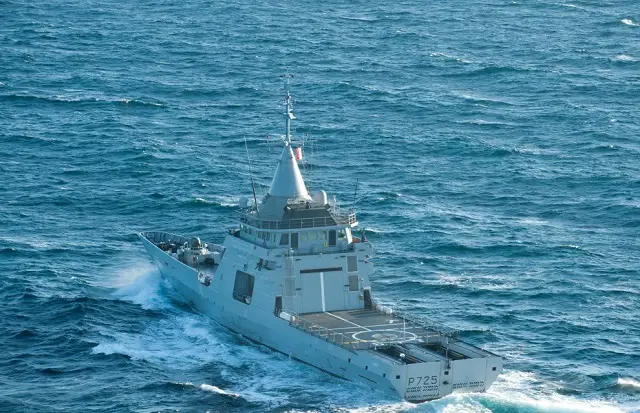 The L'Adroit OPV enters the Atalanta mission zone. Picture: French Navy

Forces of Operation Atalanta deter, prevent and repress acts of piracy and armed robbery off the Somali coast. EU Naval Force protects vessels of the World Food Programme (WFP) delivering aid to displaced persons in Somalia and the protection of African Union Mission on Somalia (AMISOM) shipping.

Since the launch of the Operation in 2008, EU NAVFOR – Operation ATALANTA has:
» Had a 100% success rate in providing protection to WFP vessels delivering food / aid to the Somali people and to AMISOM shipments critical to the success of the African Union operation in Somalia.
Ensured the protection of other vulnerable shipping within the IRTC and the High Risk Area.
» Contributed to the deterrence, prevention and repression of acts of piracy and armed robbery at sea off the coast of Somalia.
» Transferred suspected pirates to competent authorities with a view to their prosecution and conviction as a result of its close co-operation with regional governments such as those of The Republic of the Seychelles, Mauritius and Kenya.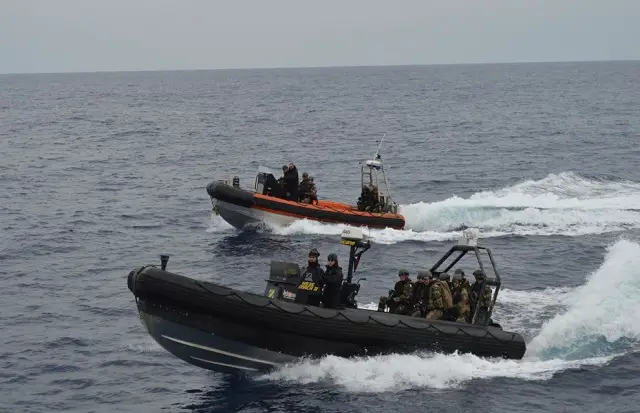 Zodiac Milpro RHIBs from the L'Adroit OPV. Picture: French Navy
Designed and built on its own funds by DCNS, L'Adroit OPV is already in service with the French Navy since October 2011. The vessel is intended to meet the operational needs of a large number of navies focusing on coastal missions/homeland security. With a length overall of 87 metres and 1,400 tonnes displacement, the OPV L'Adroit offers three weeks' blue-water endurance, a range of 8,000 nautical miles and a top speed of 21 knots.

It can deploy rotary UAVs like the CAMCOPTER or two Zodiac Milpro RHIBs thank to stern ramps: Important assests for anti-piracy missions.