a
Naval Forces News - Russia
Russian Navy Pacific Fleet Received and Tested Its First "BAL" Coastal Missile System
The Russian Navy just announced that the Pacific Fleet (PF) Coastal Troops' formation held the first launch from the new missile system 'Bal', which came into the brigade'service at the end of last year. The Coastal Troop Division, having made a 200-kilometer march from its home station, deployed on the move on an unequipped position and conducted a missile launch against waterborne target.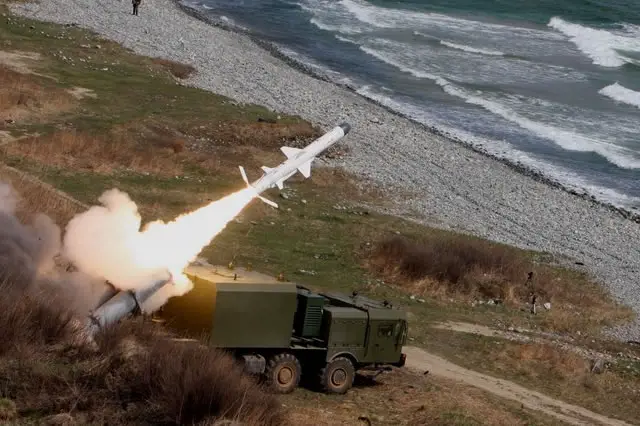 BAL Coastal Missile System of the Russian Navy Pacific Fleet Coastal Troops seen during its first test launch in Primorye territory.
Later, naval aircraft and ships-supervisors involved in supporting this firing, confirmed the successful target destruction.

According to official figures, there are currently four BAL missile system divisions in the Russian Navy. They are deployed in:
- the 11th brigade of coastal artillery troops of the Black Sea Fleet (Utash, Krasnodar region)
- the 15th Brigade of the Black Sea Fleet (Sevastopol)
- the 46th separate battalion of the Caspian Flotilla (Dagestan),
- the 72nd Regiment Bravo of the Pacific Fleet (Smolyaninovo, Primorsky Krai).

BAL mobile coastal missile system deploy the KH-35 Anti-ship missile
The Bal-E mobile coastal missile system with the KH-35 type anti-ship missile was developed on the order of the Russian Navy in the late 1990s and adopted for service in 2008. The system consists of a self-propelled command control and communications centre, self-propelled launchers, a transport and reloader machine and communications vehicle, a total of up to 11 special vehicles.

It is intended for the control of territorial waters and the protection of naval bases and coastal infrastructure.

The coastal missile system is capable of hitting targets at ranges up to 120 kilometers at any time and under any weather conditions. The time of deployment after a march - 10 minutes, cruising range - 850 kilometers, ammunition - 64 missiles, the number of missiles in one salvo - 32.