a
Naval Forces News - Mexico
Mexican Navy (Armada de México) Looking to Procure Six New Frigates by 2024
According to Mexican media, the Ministry of Treasury and Public Finance of Mexico announced an official request by the Mexican Ministry of the Navy: Allocation of about US $ 355.7 million to start construction of a new type of Frigate for the Mexican Navy in a national shipyard.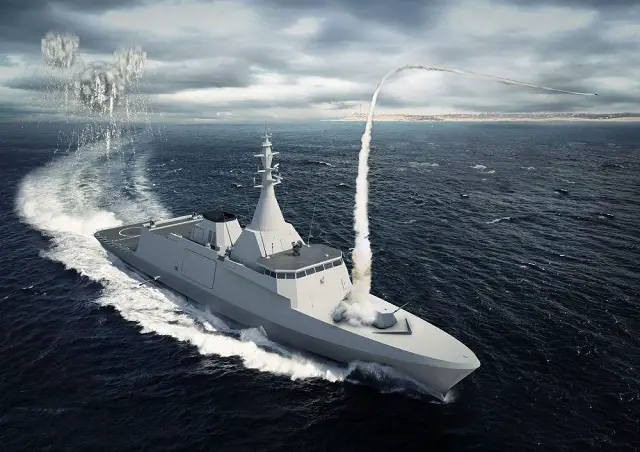 Gowind 2500 Corvette. Image: DCNS
The amount of appropriations should be distributed over three years (2016-2018). It is expected that the frigate will be launched by 2018 and handed over to the Mexican Navy in 2020. According to the same local media, by 2024 the Navy of Mexico expect to get six frigates of the new type. Their construction will be carried out with foreign assistance. The most likely shipyard for the construction will be Astilleros de Marina No 20 (ASTIMAR 20) located in Salina Cruz (Oaxaca), The same shipyard was in charge of construction for Mexican Navy patrol ships types Sierra, Durango and Oaxaca, and recently build two large amphibious ships such as the Logistic Support Ship Montes Azules.
The official requirement of Mexico are not publicly known but they likely require a relatively medium displacement multi-purpose vessel (2000 to 2500 tons). Mexican media report that the main options being considered are the
Gowind 2500 Corvette
of France's DCNS and some SIGMA variants (
SIGMA 10513
and
SIGMA 10514
) of Netherlands shipbuilding group Damen.
The Gowind 2500 Corvette is DCNS' response to 21st century defence and security challenges, combining unrivalled stealth features, resilience and high availability at sea with outstanding AAW, ASW and ASuW performances. The type has already been selected by the Royal Malaysian Navy (6 vessels) and by the Egyptian Navy (4 vessels).
SIGMA 10513 Tarik Ben Ziad Frigate of the Royal Moroccan Navy
Damen is renowned for its highly successful series of SIGMA Naval Combatants. The SIGMA concept is entirely flexible and can accommodate specific customer platform and combat system requirements. SIGMA vessels are designed in a modular way, using standardised solutions with commercial off-the-shelf equipment where possible, enhanced by military standards where needed. The Royal Moroccan Navy selected the SIGMA 10513 in addition to two SIGMA 9813 while Indonesia selected the SIGMA 10514 in addition to four SIGMA 9113 corvettes.

The Mexican Navy is an urgent need for new frigates due to the obsolescence and wear of nearly all of its surface combatabt ships:
- Part of a flotilla of destroyers of the Pacific Fleet of Mexico (FLODESPAC) includes the former USS Steinaker (DD-863) launched in 1945 (!) and two former US Bronstein class frigates built in 1962.
- The composition of the Atlantic Fleet destroyers Mexico (FLODESGO) includes four former US Knox class frigates (launched in 1962). The technical condition of these vessels is poor, the Mexican Navy being forced to stop their deployement for international missions as a result.

In July this year, the Navy of Mexico was forced to decommission a former US Edsall-class destroyer escort, a class which took part in WWII.