a
Naval Defense Industry News - USA
New US Navy Submarines &Surface Ships to have Advanced DMR Radios built by General Dynamics

The U.S. Navy has ordered 56 AN/USC-61(C) Digital Modular Radios (DMRs) and related equipment from General Dynamics. The newly built DMR radios will be capable of using the Mobile User Objective System (MUOS) waveform, the digital dial tone needed to make voice calls to the U.S. Department of Defense's next generation, narrowband MUOS satellite communications system. The four-channel radios form the foundation of the Navy's network communications aboard submarines, surface ships and on-shore locations. This order, valued at over $29 million, exercises option five on a contract awarded to General Dynamics in 2010.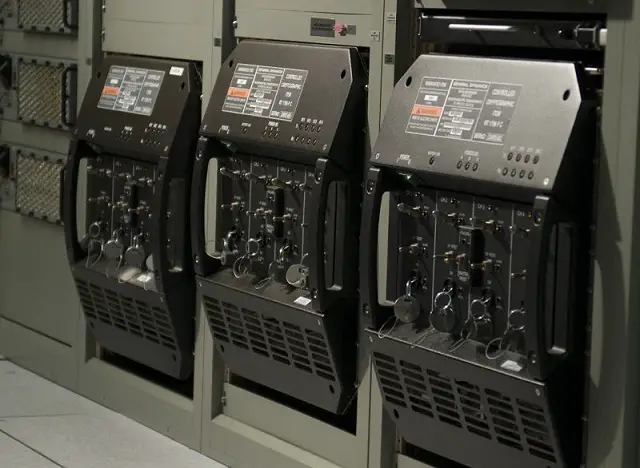 New Digital Modular Radios (DMR) will go onboard Navy destroyers and submarines currently under construction.
"DMR is an extremely versatile radio and we continue to update its capabilities to ensure that Navy communications networks have the most advanced and secure technologies," said Mike DiBiase, vice president and general manager of C4IRS Technologies for General Dynamics Mission Systems. "MUOS is an excellent example of an advanced capability that will provide smartphone-like connectivity among military personnel working in some of the toughest, most remote environments."

Earlier this year, General Dynamics announced a software upgrade for existing DMRs that turns the radio's four channels into eight virtual channels. This expanded communications capacity is available when sailors are using high frequency (HF) communication frequencies. As a software upgrade, the added capacity keeps the existing onboard DMR, saving the Navy the cost of replacing the physical radio or changing the configuration in space-constrained radio rooms.

The software-defined DMRs are one of the only military approved radios to communicate with Ultra-High Frequency SATCOM, Single-Channel Ground and Airborne Radio Systems (SINCGARS), Line of Sight and High Frequency radios on Navy vessels and land locations. General Dynamics has delivered more than 550 DMRs since 1998.