a
Naval Forces News - Vietnam
Vietnam to Procure 2 more Gepard 3.9 class Frigates & Considering 4 Tarantul-class Corvettes
Vietnam and Russia are in the final stages of negotiation for the sale of two Gepard-3.9 class (Project 11661) light stealth frigates. The Vietnam People's Navy is also considering the procurement of 4 more Tarantul-class (Project 1241.8).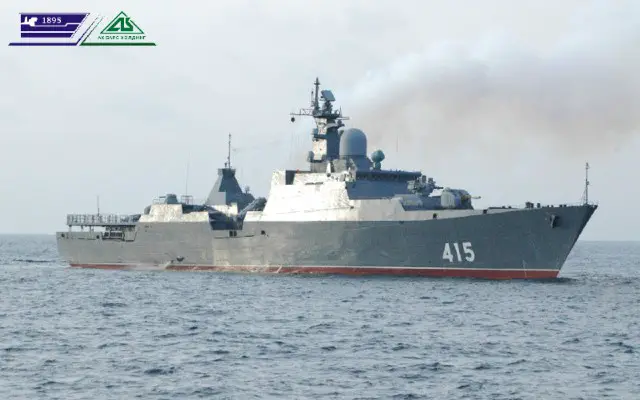 Vietnames People's Navy Gepard 3.9 class (Project 1166.1E) Frigate (picture: Zelenodolsk)
Vietnam already has two Russian-made Gepard 3.9 class light frigates, with two more currently undergoing final systems outfitting. The extra procurement of two more frigates would bring the total inventory to 6 vessels of this class in the Vietnam People's Navy fleet.

According to its builder, Zelenodolsk shipyard, the Vietnamese Gepard 3.9 class is designed to perform search tasks, track and destroy of enemy ships, air defense, anti-submarine, escort, and patrol territorial waters and EEZ. The ship can enter combat independently or in squadrons, and is equipped with stealth technology, to present a minimum presence on enemy radar screens.

They are fitted with Palma Close-in weapon system AK-630, Kh-35 anti-ship missiles, and Kamov Ka-27 helicopters. The anti-submarine weapons includes the RBU-6000 anti-submarine rocket launcher.

Vietnames People's Navy Project 1241.8 Tarantul IV missile corvette
Vietnam is also considering the possibility of building an additional 4 Project 1241.8 (Tarantul IV) missile corvettes. Vietnam is constructing these ships in domestic shipyards.

Vietnam also operated the older the older Project 1241.RE (Tarantul 1). Compared to cold war era Tarantul class, the Project 1241.8 has better sensors and is heavily armed with 16 Kh-35 "Uran" anti-ship missiles.

Vietnam is currently the main user of the Tarantul IV class, with two Russian made ships and two locally built ships. Vietnam started its own production line of project 1241.8 ships with the assistance of Almaz Central Design Bureau in Russia. The first two locally built ships were delivered on July 2014 and four more are expected to be delivered. The Vietnamese ships are armed with 1 AK-176 76mm gun, 16 Uran-E anti ship missiles, 4 Igla-M air defence missiles and 2 AK-630 close in weapon systems. The Vietnamese ships are also larger at 56.9m in length and a maximum displacement of 563 tons. They have a range of 1,700 nautical miles (3,100 km; 2,000 mi) with 44 crew members on board.

If Vietnam does build the 4 additional ships, it would bring the total to 10 Tarantul IV missile corvettes in its inventory.