a
Naval Forces News - Canada
MDA marks milestone delivering advanced Submarine Command Team Training to RCN
MDA's Information Systems group today announced that it has achieved a major milestone with the Royal Canadian Navy (RCN) for its delivery of advanced Victoria Class submarine command team training.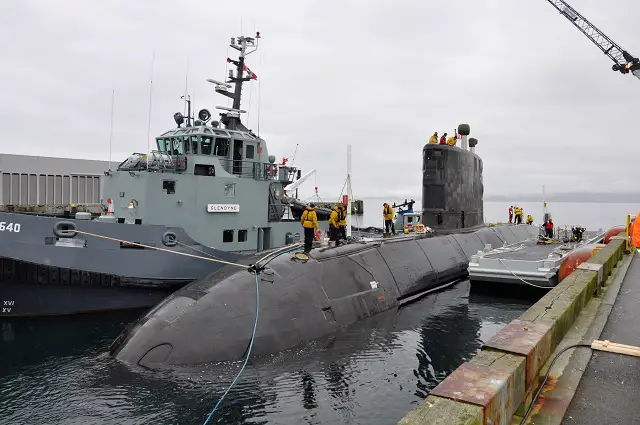 HMCS Chicoutimi, Victoria class SSK. Picture: RCN
In late 2007, MDA and BAE Systems delivered the Submarine Command Team Trainer (SCTT) to augment the RCN's onshore training capabilities for its Victoria Class submarines, at Canadian Forces Naval Operations School (CFNOS) in Halifax, Nova Scotia. Before the SCTT introduction, Victoria Class command teams received only basic training, using Canada's previous-generation Oberon Class submarines. By bringing the training into a high-fidelity simulation environment, the Command Team now has readily accessible equipment that can provide comprehensive training in a safe, cost-effective environment. The current SCTT training covers periscope, sonar, navigation, and fire control systems. Since 2007, MDA has provided in-service Support, enhancements, and upgrades.

In SCTT's seven years of supported operation, MDA has performed five major software upgrades and enhancements, including:

• Submarine Electronic Support Measures Upgrade
• General System Improvements (Radar Simulation Interface, Instructor Drawing Tool, and Fire Control Interface)
• General System Improvements (Sonar Stern Arc, Navigation Feeds)
• Passive Ranging Sonar Upgrade
• Bow Sonar Suite Upgrade and Synthetic Environment Interface

MDA's SCTT has delivered over 96% operational serviceability levels since delivery in 2007, and over the past five years has provided an average of 180 hours per month of available training capability, 72 hours per month of active training and simulation delivery, and 69 student days per month of instruction.