a
Naval Defense Industry News - Canada
MDA to deliver Naval Tactical Information Trainer to the Royal Navy
MDA's Information Systems group announced today that it has been awarded a contract from BAE Systems (BAE) to deliver a further naval tactical information solution to the Royal Navy that will be used to train naval officers from international navies. This solution leverages MDA's track record of success in the provision of high-fidelity computer-based training systems for naval personnel.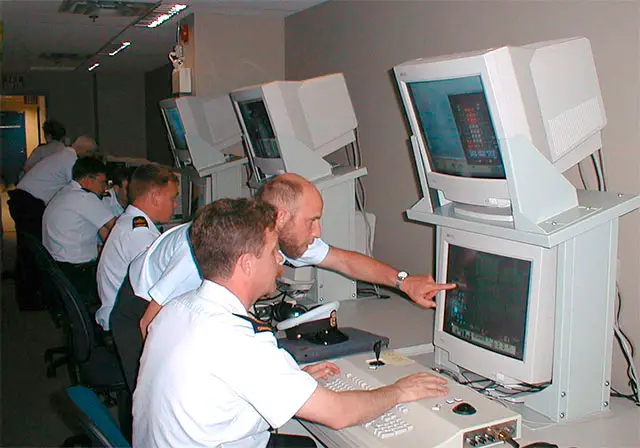 MDA's Naval Combat Operator Trainer (NCOT) delivered to the Royal Canadian Navy in 2000.
Photo: MacDonald, Dettwiler and Associates Ltd.
This latest contract builds upon expertise that began with MDA's successful Naval Combat Operator Trainer (NCOT) delivered to the Royal Canadian Navy in 2000. That expertise was further enhanced with the award of a contract from BAE in 2006 for the software development of the Classroom-Based Skills Trainer that now forms part of the Royal Navy's Maritime Composite Training System (MCTS), to provide generic equipment and naval tactical training for Royal Navy combat personnel. BAE developed the Maritime Composite Training System as part of a complete overhaul of the Royal Navy's training of surface ship warfare officer personnel. The ability to train international navies on MCTS has been identified and this additional system will provide the capacity to fulfill the Royal Navy's future commitments to its international partners. MDA continues to provide in-service support and upgrades for both NCOT and the Classroom-Based Skills Trainer.

David Hargreaves, MDA's vice president of its aerospace and defence business said, "The Royal Navy training paradigm brings a high-fidelity virtual environment into the classroom to train officers in tactical procedures in a controlled environment. The addition of MDA's enhanced training solution directly supports that objective and underscores the company's capabilities and commitment to the maritime defence and security market."