a
Naval Industry News - France
French Navy Orders Four BSAH OPV from PIRIOU & DCNS Joint Company KERSHIP
The French Defence Procurement Agency (DGA) has selected the joint bid from
PIRIOU
and DCNS (KERSHIP) for the supply of four Offshore Patrol Vessels for the French Navy (Marine Nationale) BSAH program (Bâtiments de Soutien et d'Assistance Hauturiers or offshore support and assistance vessels). The contract includes associated maintenance as well. KERSHIP, a joint venture created by the two naval partners, will act as prime contractor for this program which includes two firm vessels and two optional.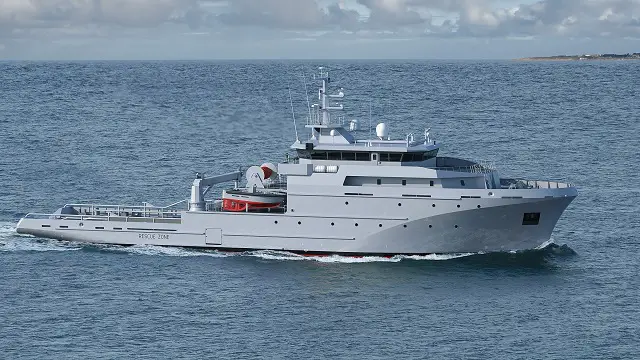 French Navy future BSAH OPV. Picture: Kership

PIRIOU provides design and construction of vessels characterized by great versatility and an endurance of 30-days. Acting as co-contractor for military studies, DCNS will provide on-board communications systems and will be in charge of maintenance over a period of up to 5 years.
Pascal Piriou, CEO of
PIRIOU group
said
"This contract is an important foundation of our workload in France for the next three years and a successful bet offer which convinced on technical and price aspects. Our offer is an industrial solution based on a production to take place 100% in France. KERSHIP has clearly become the backbone of our collaboration with DCNS where we concentrate the specific expertise required for winning future export orders thanks to references such as the B2M and BSAH contracts."


Pierre Legros, director of DCNS Programs, said,
"DCNS consolidates its position as major partner of the French Navy by offering its client, in partnership with Piriou, vessels that meet that meet operational requirements. Through its KERSHIP joint venture, DCNS proposes a complete portfolio of entry and mid-range ships backed by French references, from OPVs to specialized support vessel (B2M multimission vessels and BSAH). KERSHIP can also draw on the experience of the original OPV L'Adroit developed by DCNS on its own funds and made available to the French Navy for four years now."

French Navy future BSAH OPV. Picture: Kership

The BSAH contract covers the design and construction of ships of 70 meters in length with a full load displacement of about 2,600 tons. Two units of the firm tranche are scheduled for delivery in 2018 while the tranche 2 vessel are expected to be delivered in 2019. The BSAH are intended to be used by the French Navy in connection with the use of forces and in the field of "State action at sea".

BSAH Missions
The diversity of the missions led Kership to propose a Supply Vessel with a towing capacity of 80 tons of traction, a navigation speed of 14 knots and a significant endurance of about 30 days without refueling or resuply operations. They will be equipped with an 8 meters boat, several RHIBs and a crane for loading and unloading containers. BSAH will be able to accommodate divers, to carry weapons and ammunitions, to support submarines and surface ships, to tow underwater antennas, as well as to deploy a pollution control dam.

BSAH main caracteritics
Lengrh Overall: 70,30 m
Breadth: 15.80 m
Draft: 5.00 m
Deadweight: approx. 1000 T
Loading area on deck: 250 m²
Speed: 14 knots
Hull / superstructure: Steel
Amenities: 17 (crew) + 12 passengers
Engine: 2 x 2 650 kilowatts
Generators: 2 x 300 kWe