Russia's UKSK VLS to be Replaced with Upgraded UKSK-M Systems
.a
a
Naval Industry News - Russia
Russia's UKSK VLS to be Replaced with Upgraded UKSK-M Systems
Russian warships will receive universal vertical launchers, which can fire all types of operational missiles even in a strong storm - antiaircraft, cruise, antiship and even antisubmarine. At present Russian warships have several vertical launchers for various missiles, the Izvesia reported.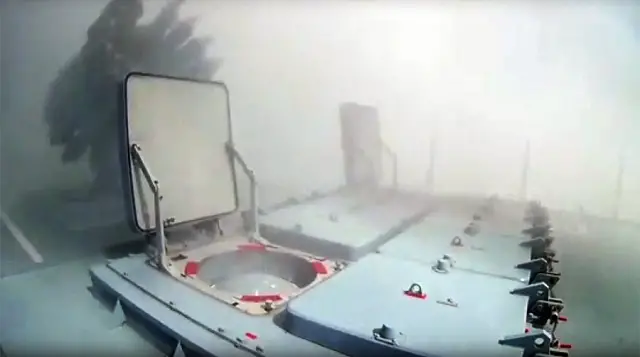 UKSK aboard Project 11356 frigate "Admiral Essen" during live firing against targets in Syria in 2017.
The new product is officially called UKSK-M (universal seaborne fire complex modernized). Experts believe the modernized launcher provides for the maximum use of warship capabilities. It can carry missiles designated for a specific mission.

The Main Navy Command told Izvestia the design of UKSK-M is ongoing. After test trials the launcher is to be installed on Russian perspective warships. UKSK-M can be carried by cruisers, destroyers and frigates, as well as small-displacement corvettes (small missile boats). Older warships will get the launcher during modernization.

UKSK-M can fire both operational and perspective missiles. Izvestia said the launcher is designed to transport and fire perspective hypersonic 3M22 missiles from the 3K22 complex (codename Tsirkon).
Expert Dmitry Boltenkov told the daily the universal vertical launchers provide higher flexibility to warship engagement. "You can load the missiles of a specific type for a specific mission. For example, more cruise missiles are necessary to support a ground operation while antiaircraft and antisubmarine missiles are necessary for escorting an aircraft-carrying force. However, there are some technical difficulties. The missiles differ in size and internal fixtures of UKSK-M have to efficiently hold both light and short and heavy and long products. A single information exchange system is also necessary between the missile and the combat fire system of the warship. It needs universal slots on the missiles and special algorithms in electronic systems," he said.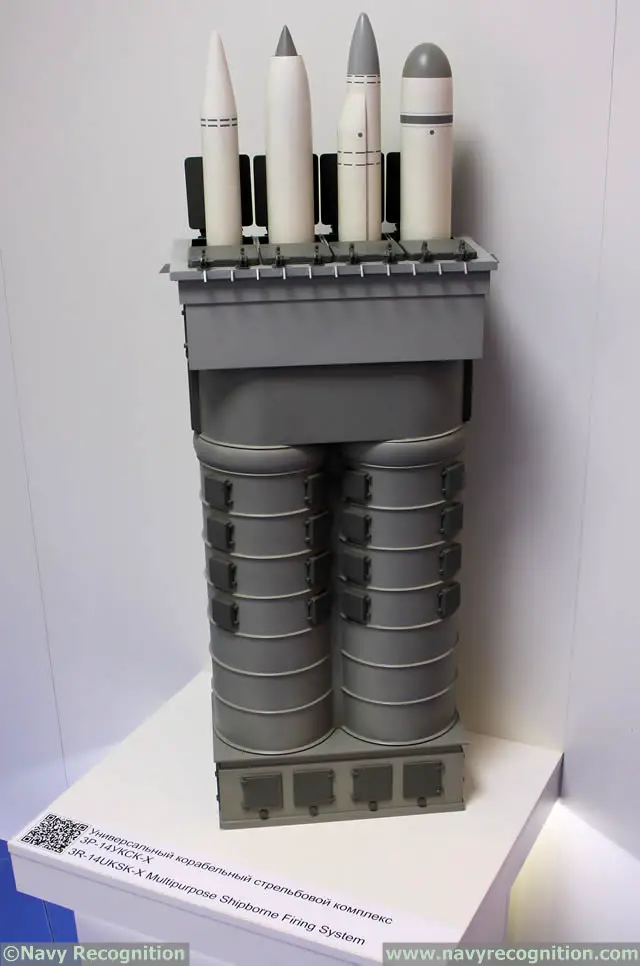 3R-14 UKSK-X VLS scale model at IMDS exhibition.
Universal launchers appeared abroad yet in the Cold War times. The Soviet Union began to design them in the 1980s. At present Russian warships are equipped with several types of launchers. Thus, universal vertical launchers 3S-14 are used to fire Kalibr cruise missiles and antiship 3M-55 (codename Onix) missiles. Similar launchers are used for Poliment-Redut antiaircraft guided missiles. They resemble UKSK-M as they are transportation container launchers placed under the warship deck.

Older launchers are still operational. Thus, Fort-M missiles (seaborne antiaircraft S-300 system) are often fired from the so-called revolving launchers. Their sophisticated design includes several transportation container launchers with missiles. After each launch the unit rotates to replace the empty container by a new one.

The US Mk.41 is the most widely-used universal vertical launcher in the world. It was initially designed for Standard antiaircraft missiles but was later increased in size to fire seaborne Tomahawk cruise missiles and ASROS antisubmarine guided missiles. Mk.41 has now an upgraded version with the Mk.57 index. Zumwalt destroyers are armed with it. American launchers can be found on warships of practically all navies of NATO countries, Japan, South Korea, and Thailand. Similar launchers were designed by France, the UK, and China, the Izvestia said.
© Copyright 2017 TASS. All rights reserved. This material may not be published, broadcast, rewritten or redistributed.