Russian MoD Developing the 'Ten' Blue Water USV/UUV
.a
| | |
| --- | --- |
| | The "Ten" (Shadow) unmanned surface/underwater vehicle (USV/UUV) is being developed in Russia. The mockup of the USV/UUV was unveiled at the Army-2017 international military-technical forum held near Moscow from August 22-27, the Main Scientific and Research Test Center for Robotic of the Russian Ministry of Defense (MoD) told TASS. |
a
Naval Industry News - Russia
Russian MoD Developing the 'Ten' Blue Water USV/UUV
The "Ten" (Shadow) unmanned surface/underwater vehicle (USV/UUV) is being developed in Russia. The mockup of the USV/UUV was unveiled at the Army-2017 international military-technical forum held near Moscow from August 22-27, the Main Scientific and Research Test Center for Robotic of the Russian Ministry of Defense (MoD) told TASS.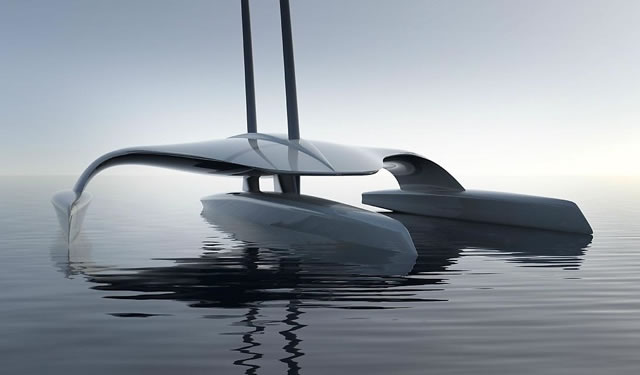 Artist impression of the "Ten" dual mode USV/UUV
According to the information on the display of the Center at the forum, the design of the trimaran robot has been researched, and the required theoretical calculations to justify the specifications of the future unmanned vehicle have been made. The monitoring of blue waters and the gathering of information about the ecology and hydrophisics of the World`s water will be the tasks of the USV/UUV.

Low noise and visibility are among the key areas of the maritime unmanned vehicles development, the head of the Center Sergey Popov told TASS. "Special attention is paid to the researches in innovative areas. The newest technologies being implemented during the development of maritime robotic systems, will allow designing of vehicles with innovative structure and unique features," he said.

The full displacement of the Ten can reach 140 t. The surfaces of the vehicle feature stealth technologies that reduce their signatures. The Ten is believed to have an endurance of 90 days and a cruising range of 13,000 nautical miles. The vehicle is supposed to be powered by an electric drive and fitted with electrochemical batteries.

© Copyright 2017 TASS. All rights reserved. This material may not be published, broadcast, rewritten or redistributed.