---
The winner of the U.S. Navy Over-The-Horizon Weapon System (OTH WS) competition is the Naval Strike Missile (NSM) by Raytheon and its Norwegian partner Kongsberg. The information came out last night in the U.S. Department of Defense Contract Announcements.
---
Kongsberg picture showing an NSM being launched.

---
The contract announcement reads:
Raytheon Co., Missile Systems, Tucson, Arizona, is awarded a $14,856,016 firm-fixed-price contract for Over-the-Horizon Weapon Systems. This contract will manufacture and deliver Over-the-Horizon Weapon Systems, which consists of encanistered missiles (EM) loaded into launching mechanisms (LM); and a single fire control suite (FCS). This contract consists of EMs (tactical, telemetered and inert operational); FCSs; LMs; mission support equipment, training equipment and courses; engineering services; and travel and other direct costs. This contract includes options which, if exercised, would bring the cumulative value of this contract to $847,611,857. Work will be performed in Kongsberg, Norway (75 percent); Tucson, Arizona (15 percent); Schrobenhausen, Germany (4 percent); Raufoss, Norway (3 percent); McKinney, Texas (2 percent); and Louisville, Kentucky (1 percent), and is expected to be completed by May 2020. Fiscal 2018 research, development, test and evaluation (Navy) funding; and fiscal 2018 other procurement (Navy) funding in the amount of $14,856,016 will be obligated at time of award and will not expire at the end of the current fiscal year. This contract was competitively procured via the Federal Business Opportunities website, with one offer received. The Naval Sea Systems Command, Washington, District of Columbia, is the contracting activity (N00024-18-C-5432).

The U.S. Navy OTH WS programme calls for the procurement of a new anti-ship missile for both classes of Littoral Combat Ships. The competition had been ongoing for a couple of years even-tough both Boeing (with its Harpoon ER) and Lockheed Martin (with its LRASM) had pulled out of the competition last year, deeming that the competition was unfair.
This left Raytheon (and its partner Kongsberg) as the only contender for OTH WS. They were pitching the Naval Strike Missile (NSM). The two companies entered in teaming agreement in 2016 and Raytheon received an initial contract to produce Naval Strike Missile (NSM) launchers at its production facility in Tucson, Arizona in August 2016.
OTH WS will be fitted aboard the future frigate of the U.S. Navy as well (FFG(X) programme).
---
Our video interview with Raytheon and Kongsberg at SNA 2018

---
Meanwhile, NSM will be test fired from a U.S. Army HEMTT truck during RIMPAC 2018 exercise this summer. Navy Recognition learned this information from from Raytheon and Kongsberg during the Surface Navy Association's (SNA) 2018 National Symposium held in January. The U.S. Army will demonstrate the "cross domain fires / cross domain integration" concept by firing an NSM against a ship target at sea during the joint exercise taking place in (and off) the island of Hawaii. A contract was awarded to Raytheon for this.

Update 02/06/2018 with Raytheon / Kongsberg press release:
The U.S. Navy has selected the Naval Strike Missile, offered by Raytheon Company (NYSE: RTN) and Kongsberg Gruppen, to meet its over-the-horizon requirement for littoral combat ships and future frigates.
The Naval Strike Missile will immediately advance the U.S. Navy's vision of distributed lethality, ensuring sea control and freedom of the seas.
Raytheon will manufacture and deliver over-the-horizon weapon systems under a $14.8 million contract for offensive missiles loaded into launching mechanisms, and a single fire control suite. The contract includes options which, if exercised, would bring the cumulative value to $847.6 million.
NSM is a long-range precision missile that strikes heavily defended land and sea targets. The missile, which can defeat enemy defenses up to 100 nautical miles away, uses advanced seeker and target identification technology.
"Raytheon and Kongsberg are providing the Navy with a proven, off-the-shelf solution that exceeds requirements for the over-the-horizon mission," said Dr. Taylor W. Lawrence, president of Raytheon Missile Systems. "Because it is operational now, NSM saves the United States billions of dollars in development costs and creates new high-tech jobs in this country."
Raytheon will manufacture NSM launchers, missiles and components in the U.S. The company has begun launcher production at its factory in Louisville, Kentucky, and will perform missile final assembly and test at its Tucson, Arizona, facility. The contract will generate business for more than two dozen U.S. suppliers. The missile program is the latest product of a longtime partnership with trusted ally Norway and its defense leader Kongsberg.
"Raytheon and Kongsberg are celebrating 50 years of cooperation, and the selection of the NSM marks another successful step for our close relationship," said Eirik Lie, president of Kongsberg Defence and Aerospace AS. "We are able to provide the U.S. Navy with the best of two worlds by combining the capability of NSM with Raytheon's proficiency as the world's largest missile maker."
---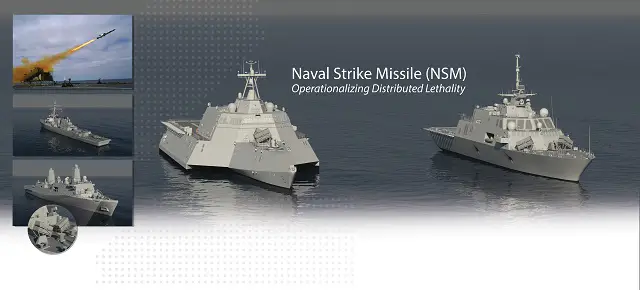 Kongsberg poster on display at SNA showing possible NSM launcher placement on both classes of LCS

---
About NSM
The NSM is a fifth generation anti-sip missile, developed by KONGSBERG for the Norwegian Navy. NSM reached Initial Operational Capability on the new Norwegian Fridtjof Nansen Class frigates and the new Norwegian Skjold Class corvettes in 2012. It is also fielded by the Polish Navy (coastal defense batteries) and has been selected by the navies of Malaysia and Germany. NSM was also tested by the US Navy on LCS (Littoral Combat Ship) #4 USS Coronado in 2014.
Hans Kongelf, Vice President of Missile Systems at Kongsberg previously told Navy Recognition that the main strength of the NSM are:
- Defense penetration capabilities thanks to its stealth, extremely low sea-skimming flight profile and high G maneuvers.
- Target recognition: Each NSM is fitted with a library of ship profiles to recognize each ship classes.
- NSM is available today, it is in production, fielded by the Royal Norwegian Navy, the Polish Navy and selected by the Royal Malaysian Navy and German Navy
---