Russian Navy Orders Four Project 03182 Small Arctic Sea Tankers From Two Shipyards
a
Naval Industry News - Russia
Russian Navy Orders Four Project 03182 Small Arctic Sea Tankers From Two Shipyards
The Russian Navy just ordered four new Project 03182 Small Arctic Sea Tankers designed by JSC "Zelenodolsk Design Bureau". This was announced during the 7th International Maritime Defence Show (IMDS 2015), which was held in St. Petersburg from 1 to 5 July 2015.

Project 03182 Small Arctic Sea Tanker. Image via BMPD.livejournal.com
Two Project 03182 tankers will be built by "Zelenodolsk Plant named after AM Gorky" shipyard and two other tankers will be built by JSC" Eastern Shipyard" in Vladivostok.

According to Zelenodolsk Design Bureau, Project 03182 Small Arctic Sea Tanker is designed as a "multi-purpose vessel with ice-breaking capacities for the transportation of liquid and dry cargo, people and helicopters (including unmanned aerial vehicles) as well as rescue operations in the Arctic zones."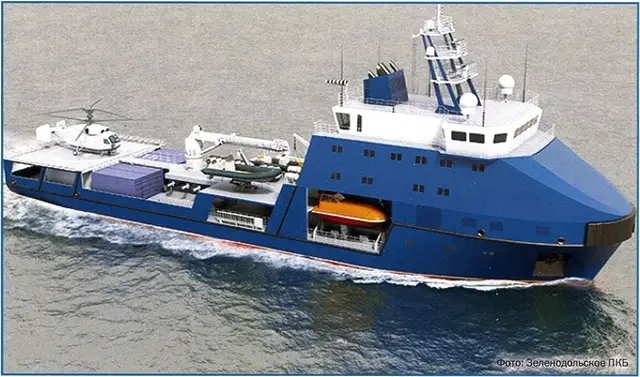 Project 03182 Small Arctic Sea Tanker
In addition to the reception, storage, transport and transfer of liquid cargo, the Project 03182 tanker is designed for the supply of barrels, boxes, pallets, containers, etc .; It is fitted with tanks for fresh water, wastewater, sewage, dry garbage and food waste;

Its missions will include patrol and rescue duty in the areas of shipping, fisheries, offshore oil and gas fields; Search and assisting ships in distress; technical support in the areas dangerous for navigation; maintenance of transport operations in ports; removal from the shoals and reefs of vessels in distress; pumping water from flooded compartments and emergency towing vessels and objects to shelter area, including in the ice; perform the functions of the fire ship.

Project 03182 tankers have a total displacement of 3,500 tons, deadweight 1,560 dwt, length 75 m, width 15.4 m, draft at full load 5 meters. They are equipped with an electric power plant with rudder propellers. The crew complement is 24 sailors with accomodation for another eight people. The vessel will be equipped with an helipad for Ka-27 Class helicopters.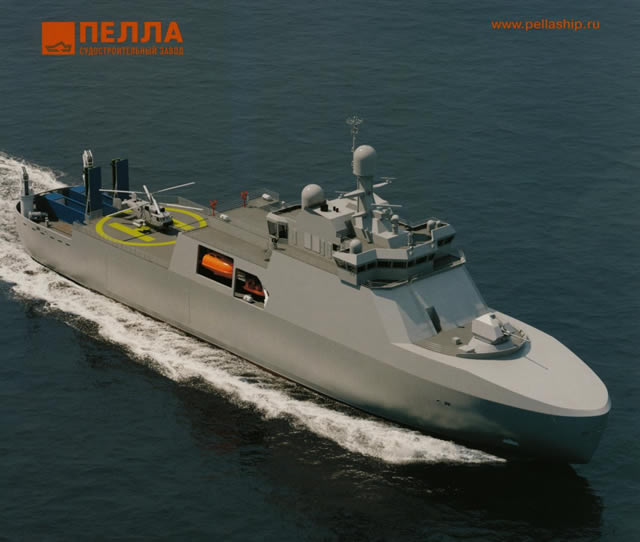 Pella Shipyard Arctic Patrol Ship
Also during IMDS 2015 maritime defense show, Pella Shipyard based in Leningrad unveiled an Arctic Patrol Ship. No order has been placed yet, but it is worth mentioning because the design of this 6,800 tons / 114 meters long patrol vessel with ice breaking capabilities features a large helipad and space at the stern for two Club-K Container Missile Systems.