Indian Navy's First P-8I Maritme Patrol Aircraft Squadron Dedicated to the Nation
| | |
| --- | --- |
| | Giving a boost to the firepower and arsenal of the Indian Armed Forces, the Defence Minister Shri Manohar Parrikar dedicated the Boeing P 8 I (Poseidon Eight India) Long Range Maritime Patrol aircraft to the nation on 13 Nov 15, at an impressive ceremony held at INS Rajali, Arakkonam, India's premiere Naval Air Station in southern India, about 70 Km off Chennai. |
a
Naval Forces News - India
Indian Navy's First P-8I Maritme Patrol Aircraft Squadron Dedicated to the Nation
Giving a boost to the firepower and arsenal of the Indian Armed Forces, the Defence Minister Shri Manohar Parrikar dedicated the Boeing P 8 I (Poseidon Eight India) Long Range Maritime Patrol aircraft to the nation on 13 Nov 15, at an impressive ceremony held at INS Rajali, Arakkonam, India's premiere Naval Air Station in southern India, about 70 Km off Chennai.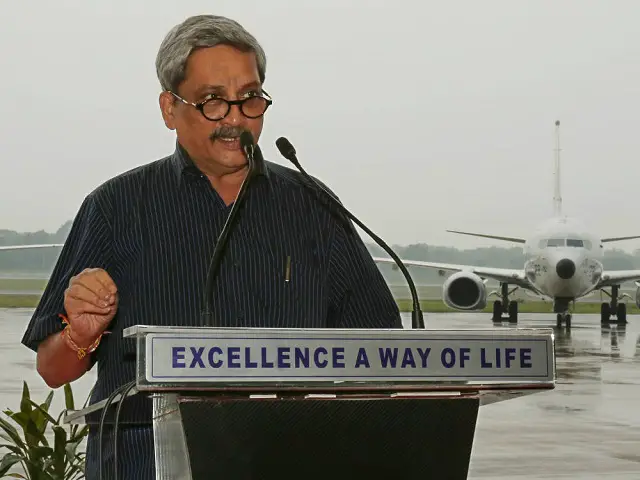 The Union Minister for Defence, Shri Manohar Parrikar addressing the gathering at the Induction Ceremony of P8i Boeing aircraft Sqn at INS Rajali, Arakkonam on November 13, 2015
The P-8I aircraft is a variant of the P-8A Poseidon aircraft that Boeing developed as a replacement for the US Navy's ageing P-3 fleet. Indian Navy became the first international customer for the P-8 aircraft with the conclusion of the nearly US $ 2.1 billion contract on 01 Jan 2009 for a total of eight aircraft. The first aircraft arrived in India on the 15 May 2013 and as of date; all eight aircraft have been inducted into the Indian Navy and are fully integrated into its operations. The P-8I aircraft is equipped for long range anti submarine warfare, anti -surface warfare, intelligence, surveillance and reconnaissance in support of broad area, maritime and littoral operations. Its communication and sensor suite includes indigenous equipment developed by defence PSUs and private manufacturers. With its high speed and high endurance of about 10 hours, the aircraft is capable of thrusting a punitive response and maintaining a watch over India's immediate and extended areas of interest.

The aircraft are based at INS Rajali, and are operated by Indian Naval Air Squadron 312A under the command of Commander Venkateshwaran Ranganathan.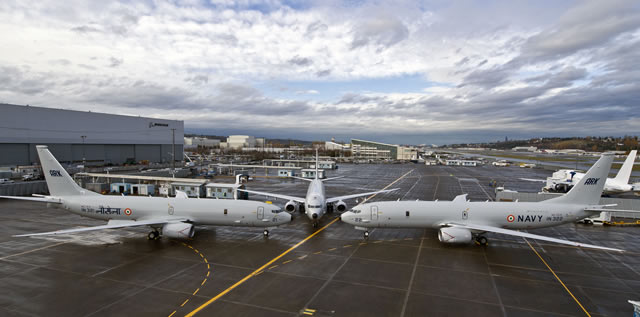 Three P-8I for the Indian Navy at the Boeing plant of Seattle
(Picture: Boeing)
The P-8 is based on the Boeing 737-800ERX airliner, but incorporates a host of modifications. The P-8A Poseidon for the US Navy will replace the P-3C Orion, now in its 50th year of service, as a long-range anti-submarine warfare, anti-surface warfare, intelligence, surveillance and reconnaissance aircraft. It will maximize the experience and technology of the Orion but with significant growth potential, greater payload capacity, advanced mission systems, software and communications. Six additional fuel tanks in P-8As allow for the jet's extended range.
Link to P-8A Poseidon Maritime Patrol Aircraft (MPA) technical datasheet