Meteksan SAVUNMA
Underwater Acoustic Systems - Platform Simulators - Missile - Radar Systems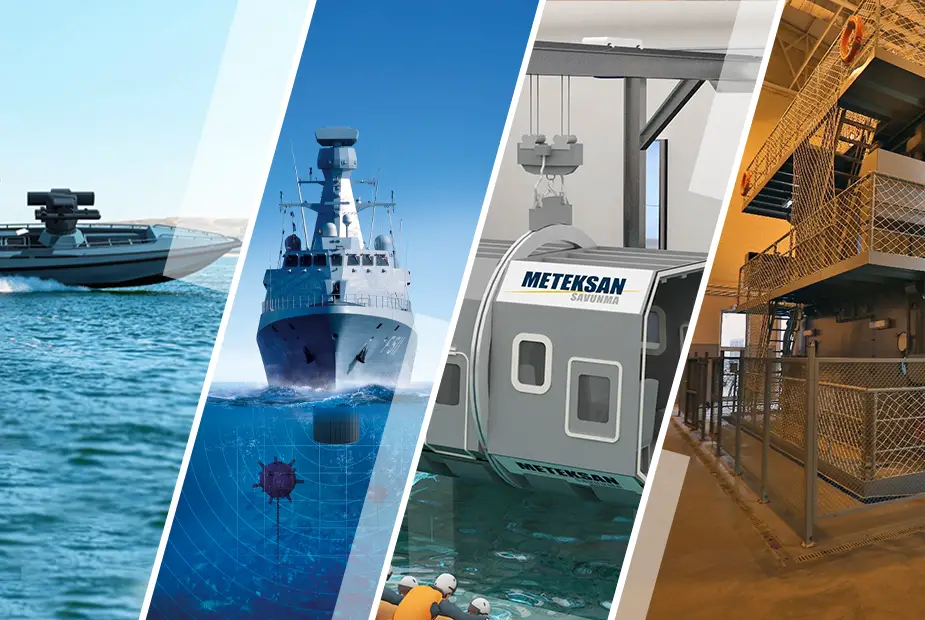 Meteksan Defence Industries Inc. is one of the largest Turkish defence industry companies, was established in 2006 to develop and produce high technology products and subsystems for Armed Forces. The systems and subsystems Meteksan Defence produce are used for command and control, communications, reconnaissance, surveillance and intelligence purposes, and they apply to several different platforms, especially for surface and underwater platforms, helicopters, unmanned aerial vehicles (UAV), and missile systems. The company operates in six fields; radar systems, perimeter surveillance systems, laser and electro-optic systems, communication systems, underwater acoustic systems and platform simulators. Within these areas, Meteksan Defence has completed various projects both in Turkey and in Far East Asia, South Asia, South East Asia, Middle East and Europe, such as ground surveillance radars, helicopter and UAV radars, data links, altimeters, counter-drone systems, anti-jamming GNSS, hull-mounted sonars, submarine sonars, naval training simulators, which are all fulfilling the costs, schedules and performance expectations of all customers.
Underwater Acoustic Systems
Meteksan Defence is developing Underwater Acoustic Systems with 'Center of Excellence' approach since 2009 to add value for naval platforms. Meteksan Defence became an important contractor at system level after investing in this area, targeting to be the underwater acoustic systems company of Turkey. The main products of the company are; hull mounted anti-submarine (ASW) sonar, transducer, hydrophone, fiber optic acoustic sensor, underwater digital acoustic modem, flank array sonar, acoustic vector sensor and submarine intercept passive sonar.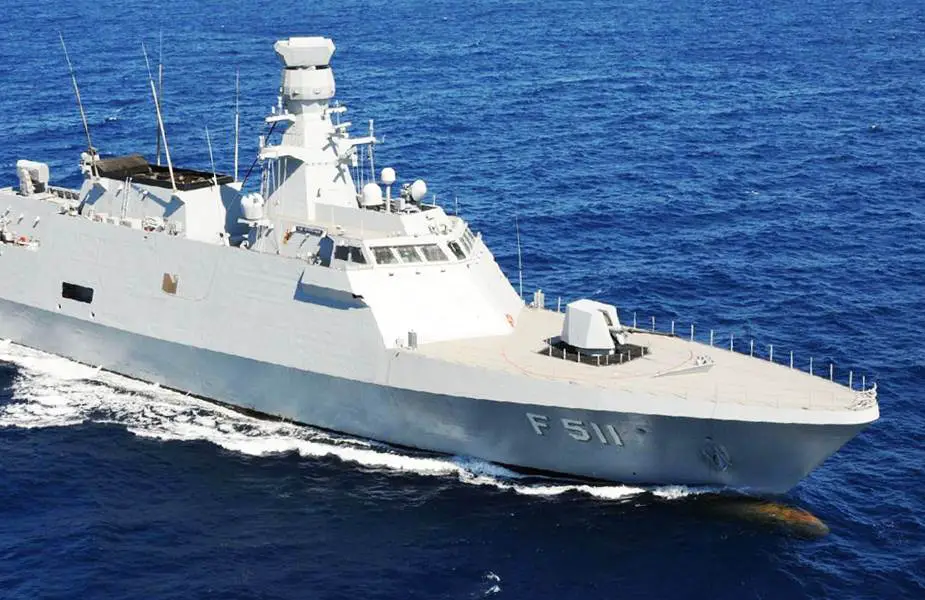 Platform Simulators
Meteksan Defence develops simulators for damage control, fire fighting and helicopter escape trainings of Naval Forces Commands and also other electro mechanical simulator solutions for Armed Forces. Systems developed include simulators of advanced technology provided from simulation and mechatronic market, and command control centers with advanced technology hardware for monitoring, controlling and evaluating all the trainings. Capabilities include embedded systems, hydraulic and mechanical system designs, 3-dimensional modeling, control systems, active-passive simulations, reverse engineering for an existing platforms simulation and control systems.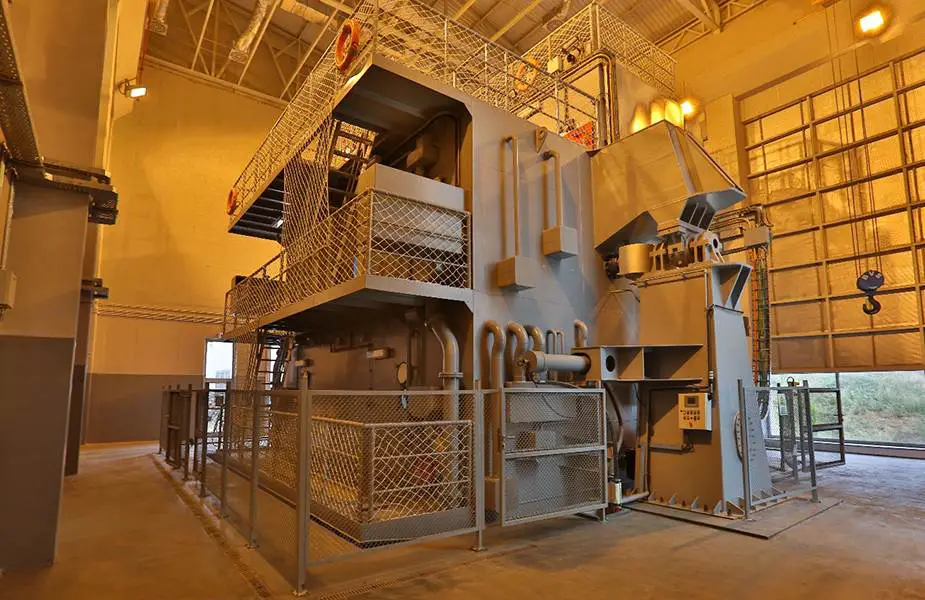 Other Areas
Meteksan Defence also develops several other systems for naval forces including PELIKAN Missile Seeker Simulator, ALACA Ka-Band Radar Cross Section Measurement System, SAR/MTI Radar for Naval UAV's, radar systems for the security of naval bases, counter drone systems, Anti-Jamming GNSS for surface ships, data links etc. The products, produced by Meteksan Defence, take part on many platforms of Turkey such as ships, helicopters, unmanned aerial vehicles, submarines and missile systems.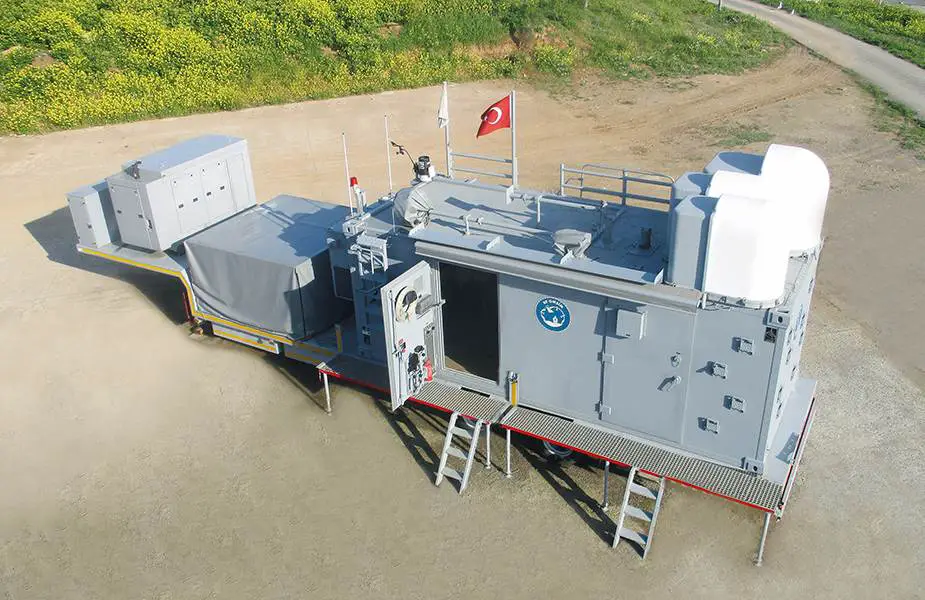 ---

The Turkish company Meteksan operates in four fields being Underwater Acoustic Systems, Platform Simulators, Missiles and Radars Systems.
---
Ankara Teknoloji Geliştirme

Bölgesi F Blok Beytepe Lodumlu

Köy Yolu No:85/A

Bilkent/Ankara

Turkey

Mail:

This email address is being protected from spambots. You need JavaScript enabled to view it.

Tel: +90 312 266 15 20

Fax: +90 312 266 13 93

Website:

www.meteksan.com
---
YAKAMOS 2020 Hull Mounted Sonar System


YAKAMOS 2020 Hull Mounted Sonar System is one of leading systems worldwide for Anti-Submarine Warfare (ASW) operations and designed for the surveillance of the underwater environment to automatically detect and track underwater targets such as submarines, mine like objects and torpedoes. YAKAMOS 2020 Hull Mounted Sonar System has more than 10 years of field experience on 4 Turkish Navy MILGEM Corvettes, which are operated successfully at most over the world seas and oceans. Meteksan Defence recently signed a contract for 4 HMS systems of the Pakistan Navy's MILGEM Corvette program because of its new design and price/performance.

---
ULAQ Armed Unmanned Surface Vessel (AUSV)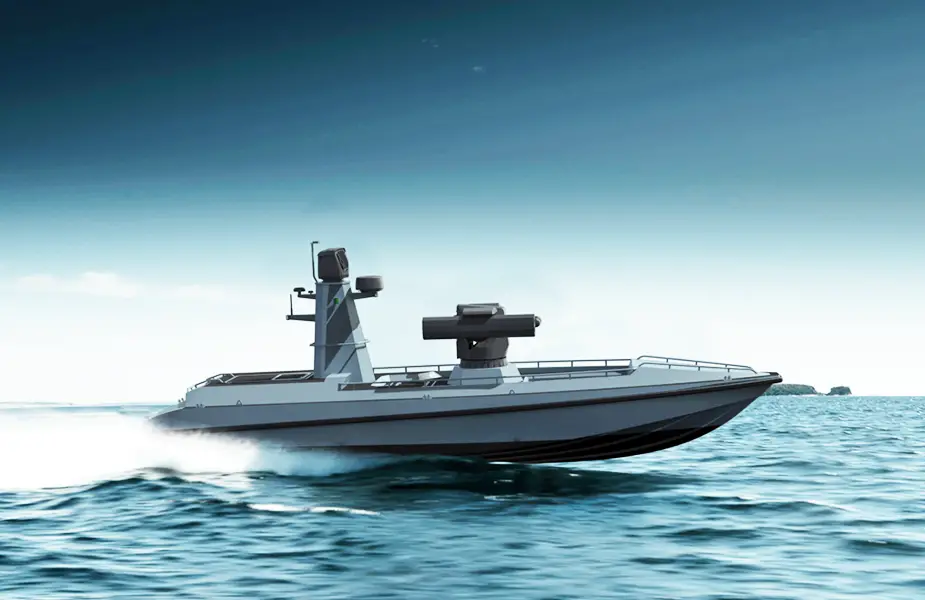 ULAQ AUSV has been built from advanced composites, has 400 km range, 65 km/h speed, day/night vision capabilities, encrypted communication infrastructure, which can be operated from mobile vehicles and headquarters or from sea platforms such as aircraft carriers or frigates, to be used for missions like intelligence, surveillance, reconnaissance, surface warfare, asymmetric warfare, escort missions, strategic infrastructure protection.
Along with the missile systems, ULAQ is equipped with different variations of communication and intelligence systems like jamming and electronic warfare systems to correspond diverse operational needs. AUSV is going to carry out joint operations with complementary forces such as UAV's, AUAV's and TUAV's.

---
DCSIM Damage Control Simulator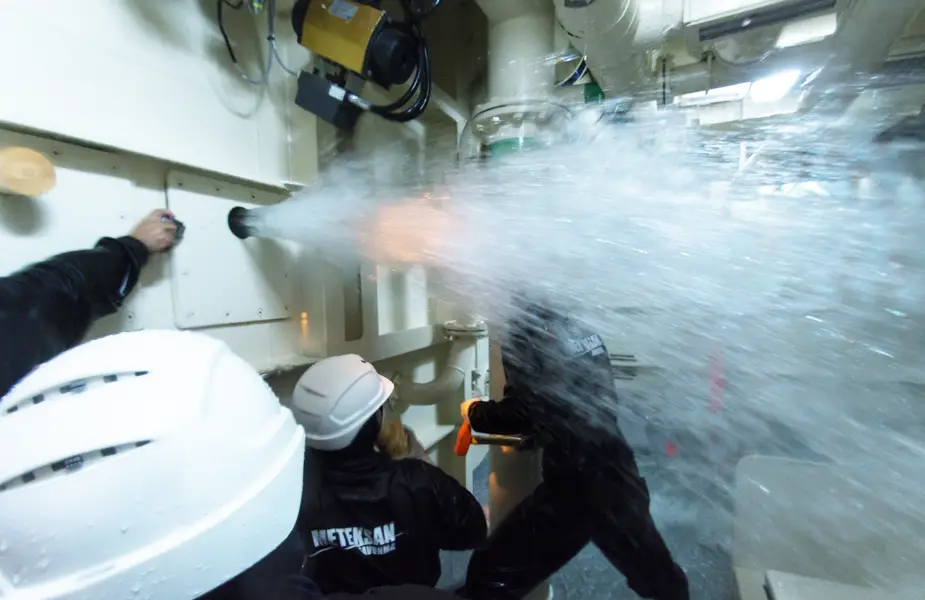 DCSIM provides a realistic training environment to develop and conduct damage control exercises to shipboard personnel and also damage control readiness in the internationally recognized commercial and naval standards. DCSIM can be used to train the personnel with a duty in the sailing units as individuals and teams in the issues related to injury protection; to increase their affinity; to develop and strengthen their skills and experiences; to try damage repair intervention methods in various situations and to try and test the damage control materials to be supplied to the Naval Forces Command. DCSIM provides instructors with the means to train naval personnel in the control, fighting and repair of real shipboard damages. DCSIM has been selected by 4 different country's naval forces and became the world's top brand in damage control simulators.



---
HUET Helicopter Escape Training Simulator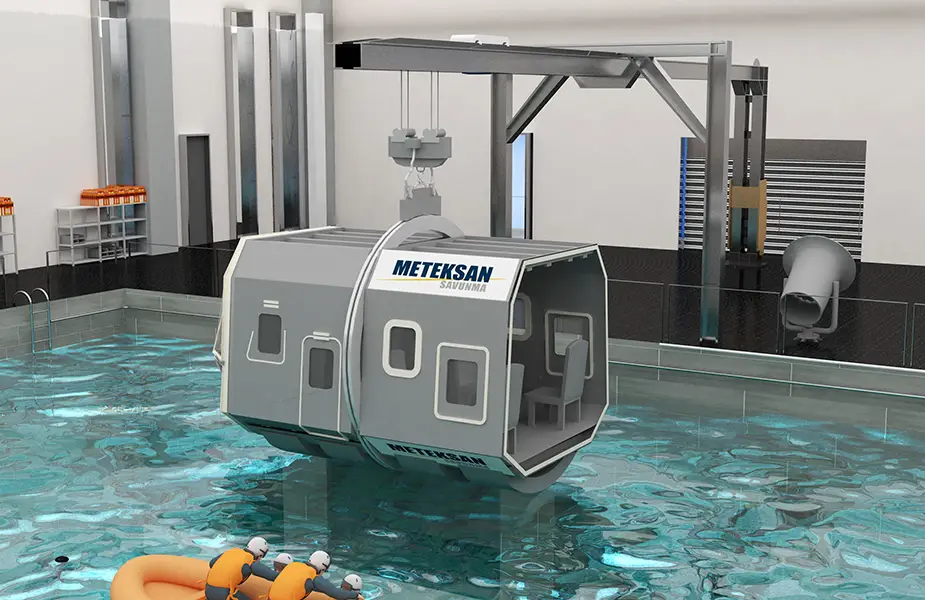 Meteksan Defence developed a modern simulator system for the rescue trainings of a helicopter falling into the sea or a forced landing aircraft. HUET trainings are carried out in a built-in pool, in which the helicopter simulation is rotated up to 180 degrees in a controlled environment and the personnel inside leave the helicopter in this situation. There are also different elements that will create a realistic environment such as storm / wave simulations, day / night separation and lighting / dimming possibility with adjustable light, sprinkler system with adjustable intensity, and the lighting, sound system, wind effect, wave effect and rain effect can be used together and separately to simulate stormy weather.



---
FTSIM Firefighting Training Simulator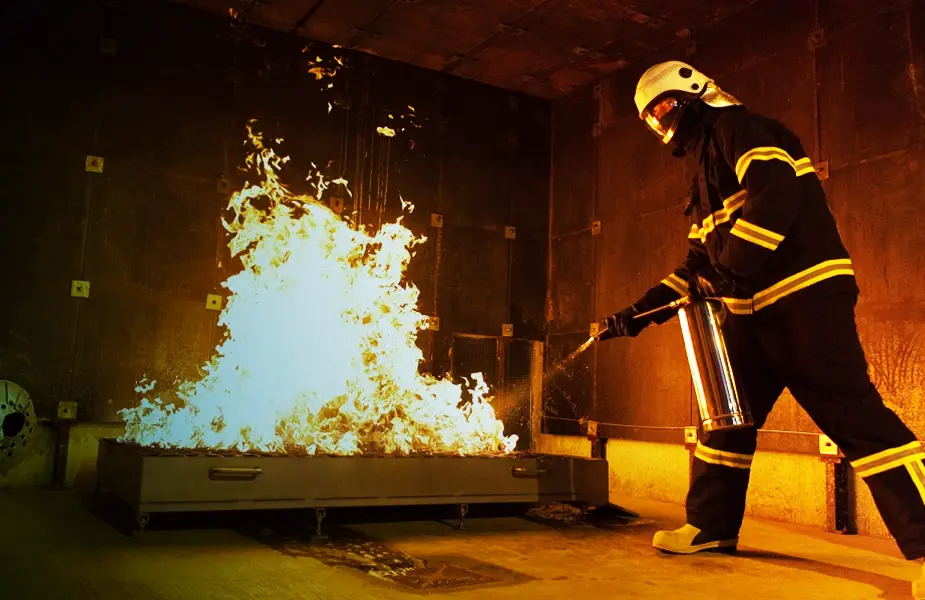 Firefighting Training Simulator (FTSIM) provides effective and safe training in a realistic environment where members of F/F team can take role of a firefighter, practice tactics and procedures through interaction with fixed and portable fire extinguishing equipment in simulated conditions without risking lives or property. The more you learn, the more you will be able to contribute to the safety of your ship effectively.
Thanks to state of art and fail-safe design of the system, FTSIM provides a safe training environment with adjustable and controllable difficulty levels. The system provides standardised means to train the crew from basic up to advanced level with proper and comparable evaluation reports. FTSIM is built in accordance with the current international Directives, and the Regulations for Prevention of Accidents.
---