a
Naval Defense Industry News - Norway, USA
Norway to Replace Ageing P-3 MPA & DA-20 Falcon EW Aircraft with Five Boeing P-8A Poseidon
The Norwegian Ministry of Defence (MoD) announced on Friday that it intends to replace its ageing fleet of six P-3 Orion (four P-3C for ASW & two P-3N for SAR) and its three Dassault DA-20 ECM aircraft with five Boeing P-8A Poseidon maritime patrol aircraft (MPA).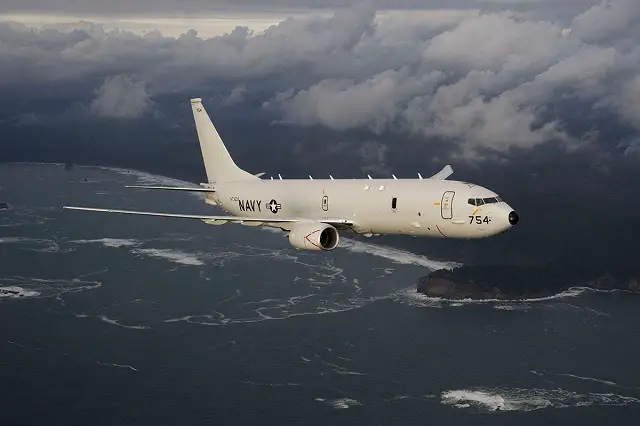 P-8A Poseidon MPA. US Navy picture.
According to the Norwegian MoD statement:
The aim of Project 2047 "VIDA maintaining the MPA and ISR capability" (Vidareføring av MPA- og ISR-kapasitet) is to increase the above-surface, sub-surface and anti-submarine warfare surveillance capabilities. The project will consist in the acquisition of give maritime patrol aircraft of the type P-8A Poseidon as well as surveillance and support system associated with the aircraft. These new maritime patrol aircraft have modern sensors, anti-submarine weapons. They are easier to use and maintain and provide better endurance. The acquisition undertaken will be a direct procurement from US authorities through the "Foreign Military Sales" process. An agreement on industrial cooperation will be requested with Boeing. Delivery of the aircraft is expected for 2021-2022.
The cost of the project will be 1.1 Billion Euros. Norwegian Minister of Defence Ine Eriksen Søreide said "The introduction of Poseidon aircrafts is crucial for Norway to maintin a leading position and expertise on strategic issues in northern areas".
The five MPA should be based at Evenes Air Station (Royal Norwegian Air Force) in Northern Norway, perfectly located to keep watch on the Norwegian Sea, Greenland Sea and Barents Sea (where Russian Navy submarine bases are located, in the Kola Peninsula).
Navy Recognition's video on the P-8A Poseidon during Dubai Air Show 2015
Based on Boeing's Next-Generation 737-800 commercial airplane, the P-8A offers advanced anti-submarine, anti-surface warfare and intelligence, surveillance and reconnaissance capabilities. The U.S. Navy has deployed four P-8A patrol squadrons since operations began in 2013. The Royal Australian Air Force just took delivery of its first P-8A while the Indian Navy have already several P-8I aircraft in operation. The United Kingdom has ordered 9 planes in July this year.
The P-8A can operate at long range from its operating base without refuelling and has the endurance to carry out high and low-level airborne maritime and overland surveillance for extended periods. This cutting-edge aircraft will also be able to conduct wide-area search of open ocean to locate small boats and drop rescue life-rafts and equipment to vessels and people in distress.