a
Focus - Falcon 2000 Maritime Reconnaissance Aircraft
Dassault Falcon 2000 MRA: The 21st Century Maritime Reconnaissance Aircraft
By Xavier Vavasseur
At the recent Dubai Airshow 2015, Dassault Aviation was showcasing a new scale model of its Falcon 2000 MRA. Navy Recognition had the opportunity to learn more about the French aircraft manufacturer's latest Maritime Reconnaissance Aircraft (MRA) and future projects.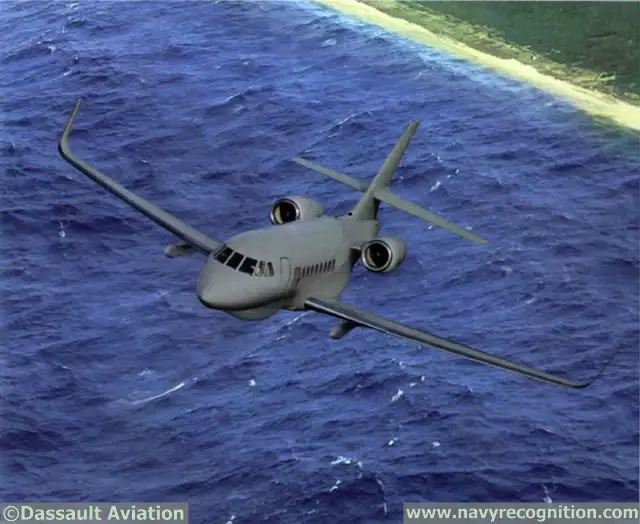 Artist Impression of a Falcon 2000 MRA on patrol fitted with two anti-ship missiles

Background
The Falcon 2000 MRA (Maritime Reconnaissance Aircraft) capitalizes on Dassault Aviation successes with its HU-25 Guardian, Falcon 200 Guardian, Falcon 900MSA and
Falcon 50M
series of maritime aircraft. It is a multirole derivative of the Falcon 2000 business jet which has already been sold to more than 300 civilian customers worldwide.
Design
The base Falcon 2000 design received some modifications to cope with the whole range of maritime reconnaissance missions. The Falcon 2000MRA is fitted with modified wings (with inboard leading-edge slats and winglets, for low speed manoeuvrability), oversized observation windows, SAR kit launcher and underwing store stations for a wide range of payload (anti-ship missiles, towed targets, EW pods...). An anti-corrosion coating is applied to the airframe to minimize corrosion risks, consequence of low level flights above water.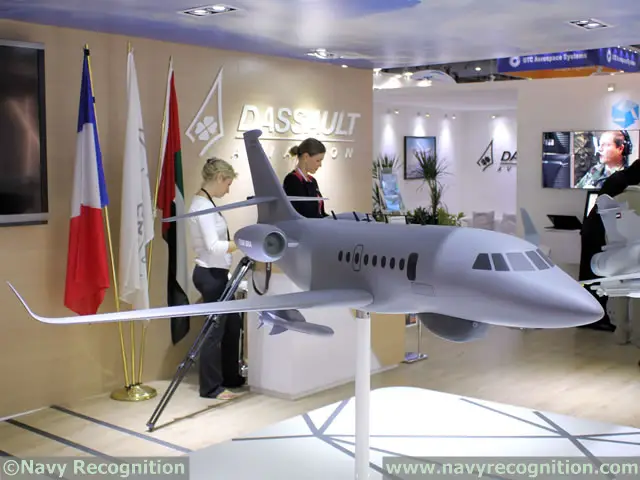 Falcon 2000 MRA scale model on Dassault Aviation stand at Dubai Air Show 2015

Performances
The Falcon 2000 airframe was selected for the role by Dassault Aviation as it offers the best compromise between size, payload, range, speed and acquisition and operating costs. For example, the Falcon 2000MRA is capable of flying for five hours at 400 nautical miles from its home base (or 2 hours 45 minutes at 1,000 nautical miles). Compared to a turboprop-powered aircraft, the Falcon 2000MRA provides much faster reaction time, considerably higher cruise speed (Mach 0.80 and patrol speeds of 180 to 240 knots) and significantly better overall persistence at medium or long distances. Maximum operating altitude is 47,000 feet which is plenty to maximize radar range. The maximum takeoff weight can be up to 42,800 lbs.

Propulsion
The aircraft is powered by two PW308C engines with 7,000 lbs thrust each. The two engines are controlled by dual channel FADEC systems, allowing the best efficiency and minimum consumption during each segment of the mission. The configuration with two engines positioned close to the centerline is a major factor of safety. There is no induced yaw in case of engine failure even during steep maneuvers at low altitude.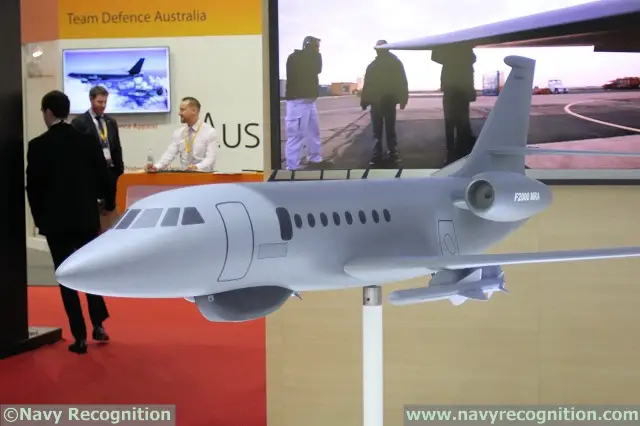 The Falcon 2000 MRA scale model at Dubai Air Show 2015 featured two Exocet anti-ship missiles, a surface search radar (under the fuselage in black), conformal sensors (represented by the grey rectangle above the radar dome), and a wide array of communication antennas (on top of the fuselage).

Missions
The Falcon 2000MRA is designed for an extremely large range of missions: Maritime Surveillance, Intelligence Surveillance Reconnaissance (ISR), Anti-Surface Warfare (ASuW), Electronic Warfare (EW), Search And Rescue (SAR), piracy control, drug interdiction, law enforcement in the EEZ, fishery patrol, pollution monitoring...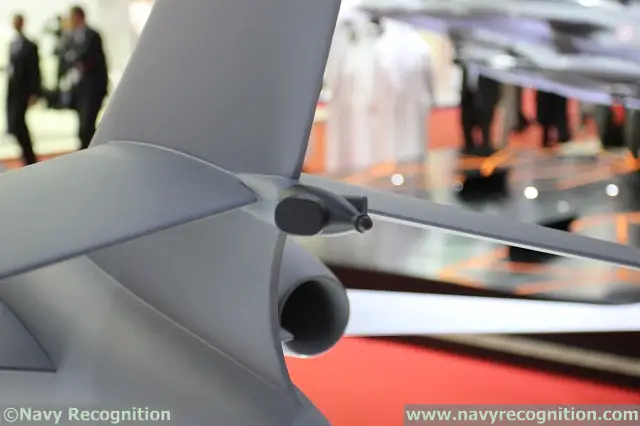 Rear facing ESM or EW sensors for self protection and survivability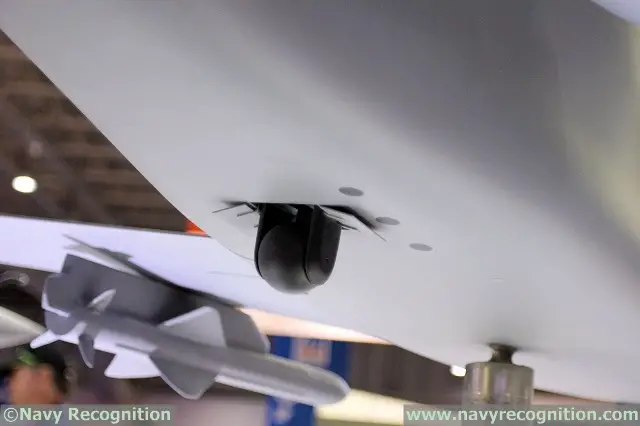 A retractable 15 inch Electro-Optic turret (EO) provides 360° coverage
Sensors
Regarding sensors,
Navy Recognition
was told during Dubai Airshow 2015 that
"the Falcon 2000MRA is not an off the shelf aircraft. It is a very modular platform that Dassault Aviation can tailor to match customer requirement".
On request, Dassault Aviation is fully capable of qualifying various configurations. Each Navy or Coast Guard force is able to choose their equipment suite from a wide range of French and foreign options. The
The Falcon 2000MRA brochures available at the air show had
Thales Searchmaster AESA radar and Amascos Tactical Combat System
brochures inside but we were told these are just examples of what may be fitted onboard the aircraft (other maritime radar options being Selex Seaspray or Elta).
The scale model on display featured a large underbelly low-drag dome for a long range surface search radar, a retractable 15 inch Electro-Optic turret (EO) providing 360° coverage, conformal ELINT/COMINT/ESM sensor arrays along the fuselage, EW sensors (linked linked to chaffs and flares dispensers), HF and Satcom antennas. The basic configuration consists in two pilots and two operators. An enhanced configuration is also offered consisting in two pilots and four operators (the maximum workstations capability being five, plus observers).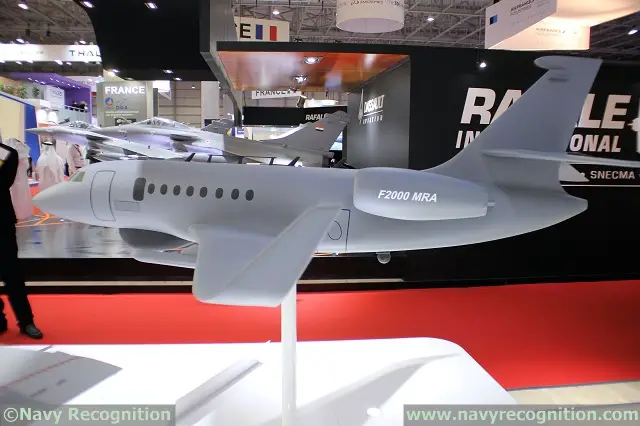 The Falcon 2000MRA is fitted with modified wings (with inboard leading-edge slats and winglets)

Strike platform
Like the Falcon 20, the new Falcon 2000MRA can be fitted with four underwing pylons (rated at 1,500 lbs. for the inner station and 1,000 lbs. for the outer hardpoints) for a large range of payloads: Jamming pods, threat simulation pods, decoy pods. Even more significant is the fact that the Falcon 2000MRA will be cleared to carry two air-to-surface missiles, such as the AM39 Exocet missiles, on its inner wing pylons, thus turning the aircraft into a deterrent anti-ship strike platform. Dassault Aviation can study the integration of other missiles as well depending on customer needs.
The Japan Coast Guard (JCG) announced in
April this year
that it has selected the Falcon 2000 Maritime Surveillance Aircraft (MSA) to enhance its operational fleet. While Dassault Aviation is currently working on the upgrade of the French Navy Atlantique 2 Maritime Patrol Aircraft (a topic which
Navy Recognition
will be covering soon), the French aircraft manufacturer told us that the company is already working on what could be next. The representative couldn't disclose much details but hinted that the brand new Falcon 8X could serve as a base.