a
NAVDEX 2015 - Al Marakeb
UAE boat builder Al Marakeb showcases world's first unmanned commercial craft at IDEX 2015
UAE boat builder Al Marakeb is drawing the crowds at this year's International Defence Exhibition (IDEX) with a ground-breaking new vessel that is setting a high water mark for the region's maritime industry. The Sharjah-based manufacturer's recently-launched B-7 is a proving to be a major talking point at the show – the world's largest defence exhibition - by being the world's only pilotless vessel with fully capable commercial as well as military applications.
Al Marakeb USV at IDEX 2015
"IDEX 2015 is the first time we have displayed our versatile B-7 and we have been delighted with the numerous enquiries regarding its multitude of commercial roles, as well those relating to its security applications," said Basel Shuhaiber, Managing Partner, Al Marakeb.

"IDEX is well-established as the world's most important defence exhibition and maritime security is traditionally the role that USVs are associated with. We are very proud to be showcasing the UAE's capabilities by producing the only vessel currently available that successfully straddles both the military and civilian spheres," he added.

IDEX is the first public viewing of the B-7, which undertook successful open water demonstrations at Al Hamra Marina, Ras Al Khaimah, in January this year. The sea trials were the final test in the B-7's evaluation programme and the vessel is now being made available for customers around the world. Al Marakeb is the first boatyard in the region to set up a production line for USVs, with the company taking the plunge into new waters for pilotless craft in order to capitalise on a growing sector.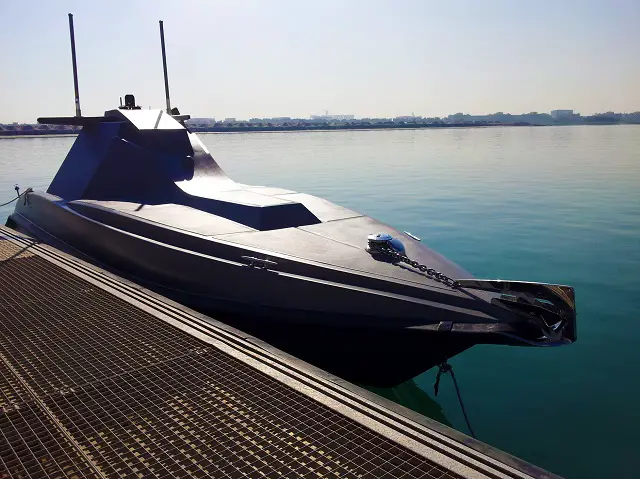 Al Marakeb B-7 USV
Al Marakeb's B-7 is expected to capture a significant market share of the nascent but rapidly growing USV industry thanks to its versatility and fully customisable specifications. Each vessel's final fit-out will be contingent on the client's individual requirements and the mandatory licensing stipulations from the markets where it will be operating. Highly suitable for inshore and ports applications, parties purchasing a B-7 will receive a vessel that in its standard guise is capable of reaching 40+ knots and features a state-of-the-art camera system with motion tracking and geo-locking feature for advanced manoeuvrability.

Anticipated industry sectors for the B-7's scope of operations include Oil & Gas, Ports & Customs, Critical National Infrastructure, Environmental, Marine Biology & Research, Hospitality & Leisure, Waterfront Development and Defence & Security. Al Marakeb says that it aims to build its expertise with unmanned craft in order to provide autonomous technology solutions through a new generation of pilotless craft that will be employed in the areas of tourism, photography, asset surveillance, surveying and the transportation of goods.

"This is definitely an exciting time for the region's maritime sector. We believe that with the successful launch of the B-7, Al Marakeb is now at the vanguard of a new technology that is heralding a new era in nautical activity, not only for the region, but for the world," said Nour Al Sayyed, Director, Al Marakeb. "We have demonstrated with our successful sea trials that a UAE company can be the lead for an exciting new industry that is set to grow exponentially over the coming years," she added.

Al Marakeb has built its reputation with the production of high-performance, recreational powerboats. Established in 2007, the company has progressively expanded its portfolio of vessels and improved its production capacity to meet the demand for craft that don't require berthing facilities. All Al Marakeb boats can be dry-docked outside customers' homes on trailers and easily transported to launch points, resulting in substantial operational savings that put the craft within reach of a wider range of buyers. Al Marakeb's current range includes its six standard models; Habbar 25, Spartan 25, Theo 27, Dino 31, Triton 35 and the Scylla 35, all of which can be customised with flexible personalisation options. The company's current network extends to the UAE, GCC, regional and international markets.

IDEX 2015 is currently underway at the ADNEC centre in Abu Dhabi. The biannual exhibition attracts over 90,000 visitors and more than 1,100 exhibitors.