a
Naval Industry News - USA
USS Detroit LCS 7 enters active service after ceremony on Detroit River
The U.S. Navy commissioned the nation's seventh Littoral Combat Ship (LCS) - USS Detroit (LCS 7) - on the Detroit River, officially placing the ship designed and constructed by a Lockheed Martin-led industry team into active service.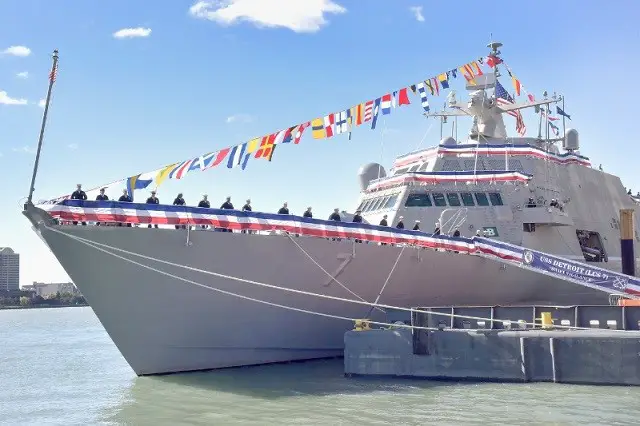 Sailors assigned to the Freedom-variant littoral combat ship USS Detroit (LCS 7) man their ship and bring her to life during the commissioning ceremony on the Detroit River on Oct. 22.
Photo credit: Lockheed Martin

USS Detroit, the fourth Freedom-variant in the LCS class, completed acceptance trials in July and was delivered to the U.S. Navy on August 12. It joins three other Freedom-variant ships in the fleet: USS Freedom (LCS 1), USS Fort Worth (LCS 3) and USS Milwaukee (LCS 5). Collectively, Freedom-variant ships have sailed over 225,000 nautical miles and successfully completed two overseas deployments.

"The entire Lockheed Martin-led LCS team is honored to have delivered USS Detroit and witness the ship being commissioned and brought to life in her namesake city," said Joe North, vice president of Littoral Ships and Systems. "For decades to come, USS Detroit will serve in the defense of our great nation, enabling the U.S. Navy to carry out its missions around the world and representing our nation where and when needed."

The Lockheed Martin-led industry team is currently in full-rate production of the Freedom-variant, with six ships under construction at Fincantieri Marinette Marine (FMM) and three more in long-lead material procurement. The ship's modular design and affordable price enables the U.S. Navy to provide presence where and when needed at a fraction of the cost of other platforms.

LCS 7 is the sixth U.S. Navy ship named USS Detroit. Previous ships to bear the name included a Sacramento-class fast combat support ship, an Omaha-class light cruiser, a Montgomery-class cruiser and two 19th century sloops of war.

The Lockheed Martin-led LCS team is comprised of shipbuilder Fincantieri Marinette Marine, naval architect Gibbs & Cox, and more than 500 suppliers in 37 states. The Freedom-variant's steel monohull is based on a proven, survivable design recognized for its stability and reliability. With 40 percent reconfigurable shipboard space, the hull is ideally suited to accommodate additional lethality and survivability upgrades associated with the Freedom-variant Frigate.