a
Naval Forces News - Russia
Russian Aircraft Carrier Admiral Kuznetsov to receive Kalibr missile system during upgrade
Russia's Project 11435 aircraft carrier Admiral Kuznetsov will receive the Kalibr (NATO reporting name: SS-N-27 Sizzler) tactical ballistic missile system during its repair and upgrade, a source in Russia's defense industry told TASS.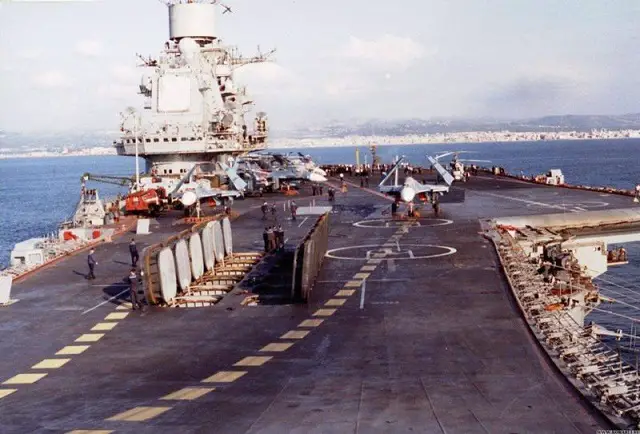 Granit missile silos aboard aircraft carrier Kuznetsov.

"The aircraft carrier's Granit [SS-N-19 Shipwreck] missile system will be replaced with the Kalibr system during the repair and upgrade," the source said.

According to the source, the 3S-14 versatile vertical launchers of the Kalibr system have been adapted to the Oniks (SS-N-26 Strobile) supersonic cruise and Tsirkon hypersonic missiles.

During the upgrade, the ship's electro-mechanical equipment, including the main propulsion unit, will be repaired. Its several faulty boilers will be replaced.

"The flight deck and associated equipment will be upgraded as well to ensure safe takeoff and landing of fighter jets," the source said.

According to the source, the ship's air wing will remain composite and include Sukhoi Su-33 (Flanker-D) heavy and Mikoyan MiG-29K/KUB (Fulcrum-D) light fighter jets. TASS does not have any official confirmation of the information.

The Project 11435 aircraft carrier Admiral Kuznetsov is designed to gain sea and air supremacy in the fleet's area of operation to ensure its combat sustainability, deliver air strikes against the enemy's targets and support amphibious landing operations.
The aircraft carrier entered service in 1990. The ship has a full displacement of 58,000 tons, a length of 304.5 meters, a full capacity of 200,000 hp and a speed of about 30 knots.
In addition to its air group of 24 or 26 fighter jets and 12 helicopters, the ship Admiral Kuznetsov is armed with anti-ship and air defense missile systems. The ship also has a ski-jump ramp and two aircraft elevators to support aircraft operations. The ship's crew totals 1,300 and its air wing has 660-strong personnel.



© Copyright 2017 TASS. All rights reserved. This material may not be published, broadcast, rewritten or redistributed.