a
Naval Industry News - Russia
Russian Navy Project 11711 Landing Ship LST Ivan Gren to Soon Complete Builder Trials
The Russian-made large amphibious assault ship Ivan Gren will complete its builders sea trials in late October 2017, the Defense Ministry's press office said.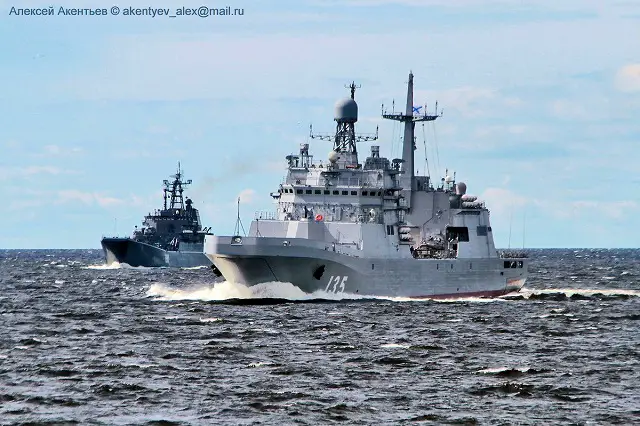 Landing ships of project 775 Aleskandr Shabalin (left) and Project 11711 Ivan Gren (right) sailing together during trials in the Baltic. Picture by Alex Akentyev
"The shipyard has switched to the final stage of the ship's builders sea trials. The large amphibious assault ship has arrived at the acceptance base in Baltiysk [in west Russia] and is undergoing preparations for going to sea," the press office said.

"During the final stage of the builders sea trials, the ship's weapons and communication system will be tested and work with its bow and stern landing gear will be carried out," the press office added.

The Project 11711 large amphibious assault ship is armed with AK-176M and AK-630M guns and two shipborne versions of the A-215 Grad-M multiple launch rocket system with a range of about 20 kilometers (12 miles) to hit coastal targets and support amphibious assault units.

The ship can carry a Kamov Ka-27 (NATO reporting name: Helix) search and rescue helicopter or a Ka-29 (Helix-B) transport/combat rotorcraft. The ship can accommodate 13 tanks or 36 infantry fighting vehicles or armored personnel carriers and amphibious assault units.

© Copyright 2017 TASS. All rights reserved. This material may not be published, broadcast, rewritten or redistributed.