---
The Russian Defense Ministry traditionally held the single arms acceptance day under the chairmanship of Defense Minister Sergey Shoigu to report on supplied military products and built infrastructure of the armed forces. The results showed that the renewal of the Russian Navy is progressing at a low pace, the Independent Military Review said.
---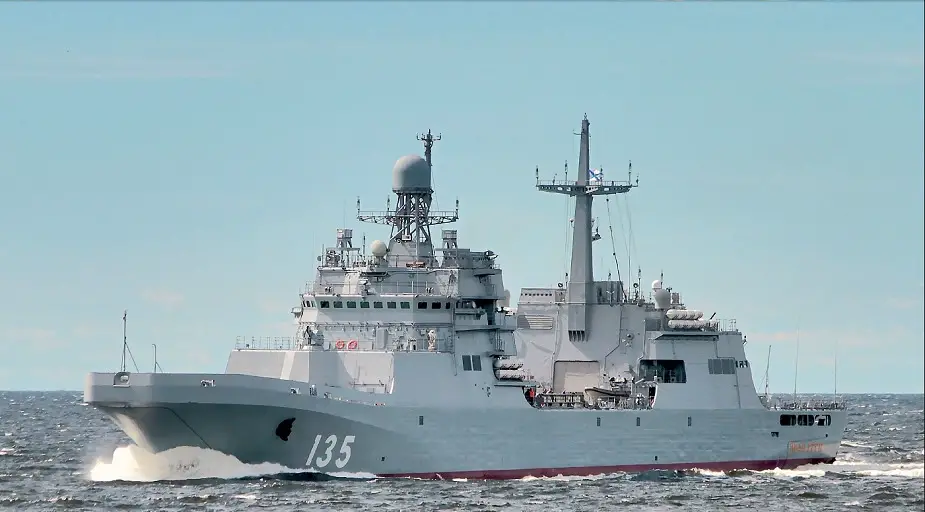 Landing ship of project Project 11711 Ivan Gren during trials in the Baltic. The ship's keel was laid nearly 15 years ago and it has yet to be commissioned. Picture by Alex Akentyev.
---
It was reported that over 3.5 thousand "perspective arms and hardware" were delivered to the armed forces in 2017, including over 110 aircraft and helicopters, two warships, three Iskander-M missile complexes, nine various-class missile weapons, 116 tactical Kalibr cruise missiles, and over 400 pieces of armor and space equipment. Engineering vehicles and automobiles, communication means, air weapons and munitions are being supplied as scheduled.

Minister Shoigu said the 2017 state defense procurement order was fulfilled 98.5 percent by supplies and 96.7 percent by maintenance. Helicopters, coastal missile complexes, space means, antiaircraft missiles, missile complexes of ground forces, armor, radars, strategic weapons were supplied in full volume, as well as modernized naval logistic ships, seaborne armaments and other hardware.

It looks like it is all OK in the Russian Defense Ministry and many countries in the world can only envy its procurement of arms and weapons. However, the renewal pace of Russian warships cannot but cause concern even despite successful engagement of seaborne Kalibr cruise missiles. The missiles and their carriers are not the whole Navy which needs much more to successfully cope with its missions. Besides, there are problems with Kalibr carriers. There are very few of them and it is premature to claim the Russian Navy is armed with Kalibrs.

The Sovershenny corvette, which is one of the two warships accepted into service, cannot be considered fully combat-ready. It is more misfortunate that the big landing ship Ivan Gren which has been built for nearly 15 years, and the Admiral Gorshkov frigate of project 22350 which marked 12 years since the laying ceremony on February 1, developed into never-ending construction projects. They both lead their series and the delay will affect all other warships.

Former Navy Commander-in-Chief Admiral Vladimir Kuroyedov once said the appropriations for the Navy from mid-1990s to early 2000s, i.e. for over ten years, comprised 12-14 percent of the total defense budget. Still the Navy did not receive over 60 bln rubles of planned appropriations in 2001-2006.

The Navy is a costly business. But if the country needs it, it should not save on it. The situation with the general-purpose warships is a plight (everything is relatively OK with seaborne nuclear deterrence) and the commissioning of only two main warships in a year is unacceptable.

There is one positive moment. The figures on warships cited in the Defense Ministry report finally coincided with those provided by experts. Previously there were distortions or exaggerations. Now it remains to accelerate the commissioning of new warships and auxiliary vessels of the Russian Navy, the Independent Military Review writes.
---
© Copyright 2018 TASS. All rights reserved. This material may not be published, broadcast, rewritten or redistributed.
---