---
According to information published by the Indian Ministry of Defense on July 20, 2021, the Indian Navy accepted the first two of its MH-60R Multi-Role Helicopters (MRH) from the US Navy in a ceremony held at Naval Air Station North Island, San Diego.
Follow Navy Recognition on Google News at this link
---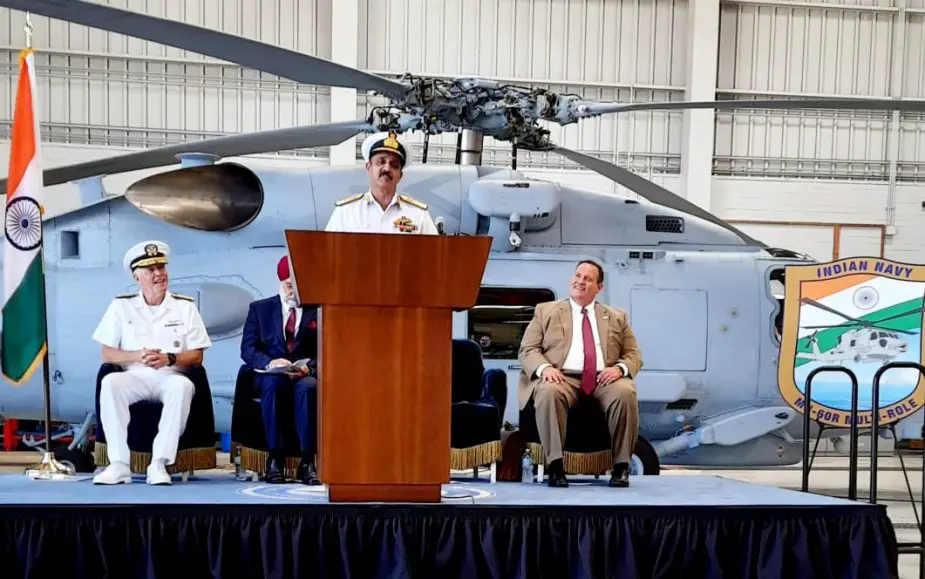 MH-60R Multi-Role Helicopters (MRH) during the ceremony (Picture source: Twitter account of Umair Aslam)
---
The ceremony marked the formal transfer of these helicopters from US Navy to Indian Navy, which were accepted by His Excellency Taranjit Singh Sandhu, Indian Ambassador to USA. The ceremony also witnessed exchange of helicopter documents between Vice Adm Kenneth Whitesell, Commander Naval Air Forces, US Navy and Vice Adm Ravneet Singh, Deputy Chief of Naval Staff (DCNS), Indian Navy.
MH-60R helicopters manufactured by Lockheed Martin Corporation, USA is an all-weather helicopter designed to support multiple missions with state of the art avionics/ sensors. 24 of these helicopters are being procured under Foreign Military Sales from the US Government. The helicopters would also be modified with several India Unique Equipment and weapons.
The induction of these MRH would further enhance Indian Navy's three-dimensional capabilities. In order to exploit these potent helicopters, the first batch of Indian crew is presently undergoing training in USA.
The MH-60R is a naval version of the American-made UH-60 Black Hawk designed and manufactured by Sikorsky company which is now part of Lockheed Martin.
The MH-60R can be armed can be equipped with a range of weapons on the four weapons stations, including Lockheed Martin AGM-114 Hellfire anti-surface missiles. For anti-submarine warfare, the MH-60R can carry up to three ATK mk50 or mk46 active/passive lightweight torpedoes. The side of the helicopter can be fitted with a pintle-mounted weapon station armed with a 7.62mm machine gun.
The MH-60R is powered by two General Electric T700-GE-401C turboshaft engines rated at 1,425kW. It can fly at a maximum speed of 267 km/h with a maximum cruising range of 834 km.
---