---
According to a press release published by Saab on July 30, 2021, the company has signed a contract with the German Federal Office of Bundeswehr Equipment, Information Technology and In-Service Support (BAAINBw), and has received an order to deliver and integrate new naval radars and fire control directors for and in the German Navy's Frigates of the Brandenburg-Class (F123).
Follow Navy Recognition on Google News at this link
---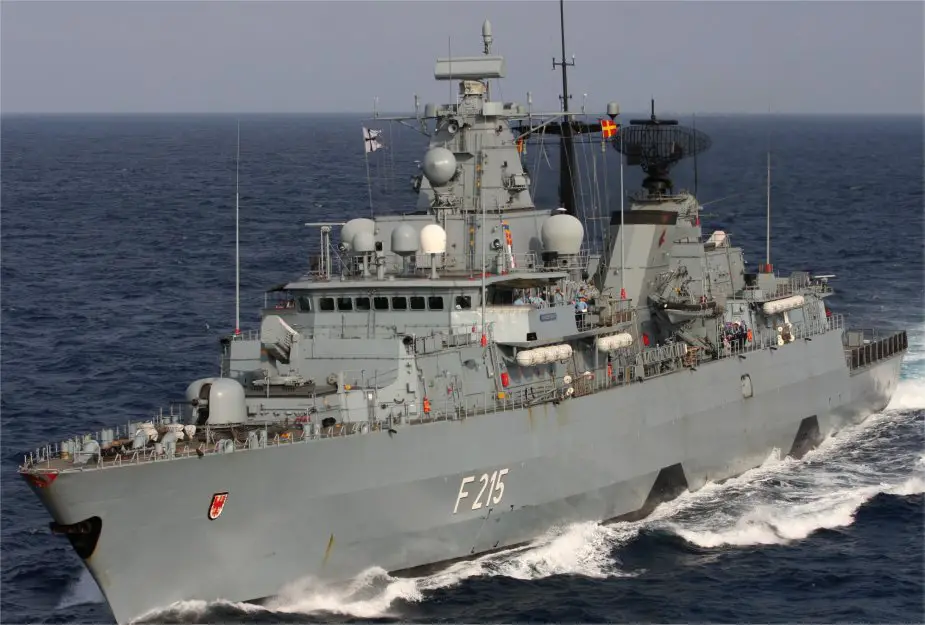 Brandenburg-Class (F123) frigate Brandenburg (Picture source: Sea Forces)
---
The contract includes a new combat management system in order to completely overhaul the system currently in use on the F123, allowing a low risk integration of the new naval radars and fire control capabilities. The order value is approximately 4,6 billion SEK. Deliveries and other services will take place between 2021 and 2030.
Saab will be the prime contractor and will contract the German shipyard Abeking & Rasmussen for the shipbuilding work while the German company ESG will carry out logistical support.
The contract includes delivery and integration of Saab's 9LV Combat Management System, Sea Giraffe 4A and Sea Giraffe 1X radars, Ceros 200 fire control director as well as third-party systems, including IFF capability. It also includes a comprehensive, performance-based logistics package supporting the frigates' operational capabilities.
The F123-type frigates have ASW as their primary mission. They have a displacement of 4,700 tonnes. Their sensors include a Thales LW08 D-Band air search radar, a Thales SMART-S F-Band surface radar, a Thales STIR-180 fire-control radar, two Raytheon Redpath I-Band navigation radars, a low-frequency active sonar system (LFASS) towed array and a mounted sonar by STN Atlas.
These sensors are used to control and guide the main weapons, which are two twin MBDA MM-38 Exocet launchers, a Lockheed Martin Mk41 Mod3 VLS with 16 cells for NATO Sea Sparrow missile, two RAM systems with 21 cells each, two twin ATK Mk46 torpedo launching tubes, an Oto Melara 76/62 main gun and two Rheinmetall Rh202 20mm guns.
9LV is a Naval Combat Management System (CMS) from the Swedish company Saab. Saab's 9LV naval combat system solutions offer complete C4I for every type of naval platform, ranging from combat boats and patrol boats, to frigates and aircraft carriers, as well as submarines and vessels for anti-piracy, security and surveillance.
---