---
According to information published by Tass on September 1, 2021, the Admiralty Shipyards (a subsidiary of the United Shipbuilding Corporation) has completed the state trials of the third Project 636.3 submarine "Magadan" (Improved Kilo-class) for the Pacific Fleet of the Russian Navy, according to the press department of the enterprise.
Follow Navy Recognition on Google News at this link
---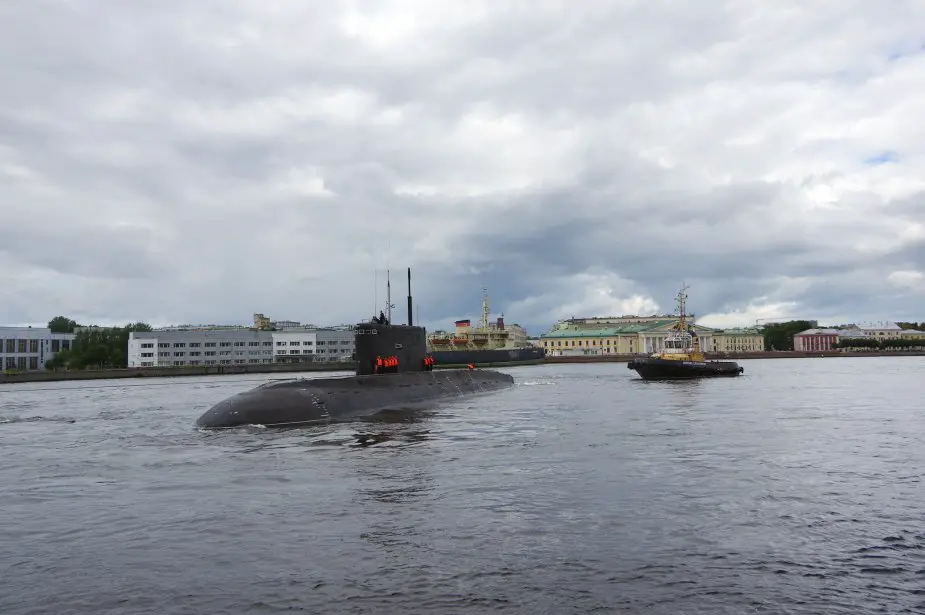 Project 636.3 submarine Magadan (Picture source: Navy Recognition)
---
A series of six Project 636.3 submarines designed for the Pacific Fleet is being built by the Admiralty Shipyards. The Project 636.3 lead submarine 'Petropavlovsk-Kamchatsky' was delivered to the customer in December 2019. The second submarine 'Volkhov' was launched in December 2019 and is undergoing shipbuilders trials. The third submarine 'Magadan' was laid down on November 1, 2019 and will be delivered to the Navy in November 2021.
Project 636.3 also called Varshavyanka class is an upgraded version of the Kilo-class submarines that entered into service with the Russian Navy in June 2014. The new submarine features stealth technology as well as extended cruising range and the ability to strike surface, land, and underwater targets. They are crewed by 52 submariners, have an underwater speed of 20 knots, and a cruising range of 400 miles with the ability to patrol for 45 days.
The submarine has a length of 74 meters, a maximum displacement of more than 3,900 tons, an operational depth of 240 meters, a maximum depth of 300 meters, and a cruising range of 7,500 nautical miles.
The Project 636.3 submarines can launch Kalibr / Club land-attack cruise missile, anti-ship missile, and anti-submarine missile. The submarine is also armed with 533-millimeter torpedo tubes and carried a total of 18 torpedoes.
---