a
World Naval Forces News - Iran
Iran to Unveil Home-Made Maritime Patrol Aircraft (MPA) Next Month
Iranian Defense Minister Brigadier General Ahmad Vahidi announced that the country plans to unveil a home-made sea patrol aircraft within the next few weeks.

Vahidi said that the aircraft is being manufactured, and expressed the hope that the project could be unveiled during the Ten-Day Dawn ceremonies from February 1 to 11, celebrating the victory of the Islamic Revolution back in 1979.

As regards the features of the aircraft, Vahidi said that it is equipped with optical and radar subsystems and is capable of operating for long distances and can be used in maritime reconnaissance patrolling.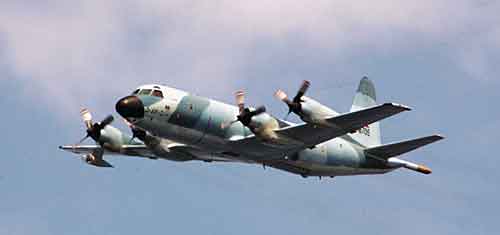 Iran currently uses 2 P-3 Orion Maritime Patrol Aircraft, among other types
(picture: Internet)
The minister further said that the plane enjoys all the features of a modern sea patrolling aircraft.

Earlier in August, Vahidi had said that the Islamic Republic is manufacturing a maritime patrol aircraft.

Islamic Republic of Iran Naval Aviation currently uses:
-2 Dornier DO-228
-2 P-3F Orion
-5 C-130H MP
-7 Y-12 MP
-2 Fokker F-27 400M/ 600MP
for maritime patrol.