a
Naval Forces News - Russia
Russian Warship Caesar Kunikov amphibious landing ship to Join Blackseafor Drills
Russia will send the Caesar Kunikov amphibious landing ship to the international Black Sea Naval Force (Blackseafor) naval exercise, Black Sea Fleet press secretary Vyacheslav Trukhachev said on Friday.

The exercise will take place between April 5 and 24.

During the exercise, the international naval group will call at the ports of Constance, Sevastopol and Istanbul, he said.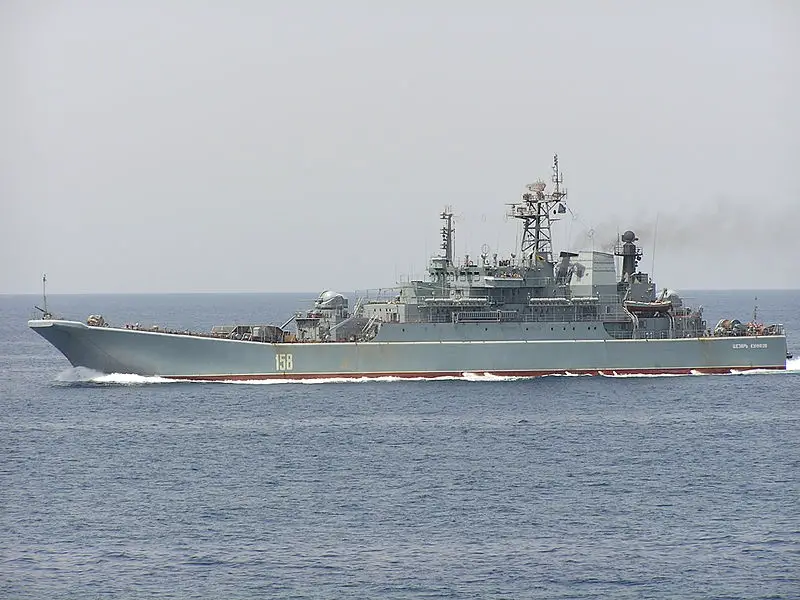 Caesar Kunikov amphibious landing ship
(picture: Luis Díaz-Bedia Astor)

The Caesar Kunikov is a Ropucha-I (Project 775) class large landing ship of the Russian Black Sea Fleet.

They are designed for beach landings and can carry a 450 ton cargo. The ships have both bow and stern doors for loading and unloading vehicles, and the 630 m² of vehicle deck stretches the length of the hull. Up to 25 armored personnel carriers can be embarked.

General characteristics
Type: Landing Ship Tank
Displacement: 2,200 tons standard / 4,080 tons full load
Length: 112,5 m
Beam: 15 m
Draft: 3.7 m
Propulsion: 2 diesel engines; 2 propellers, 19,200 hp
Speed: 18 knots (33 km/h)
Range: 6,100 nm at 15 knots (28 km/h)
Capacity: 10 main battle tanks and 200 troops or 12 BTR and 340 troops or 3 main battle tanks, 3 2S9 «Nona-S», 5 MT-LB, 4 army trucks and 313 troops or 500 tons of cargo
Complement: 87-98
Armament: 2* 2*57 mm AK-725 guns (Ropucha I)
1* 76 mm AK-176 (Ropucha II)
2* 30*122 mm rocket launcher A-215 Grad-M
Strela 2(SA-N-5) surface-to-air missile system(4 launchers)
2* 30 mm AK-630 air defence gun(2 six-barreled gatling mounts)