a
Naval Forces News - France
Successful first end to end firing of MBDA naval cruise missile (MdCN) in its submarine configuration
The French DGA (Direction Générale de l'Armement) has successfully carried out the first end to end firing of the MdCN (Missile de Croisière Naval or naval cruise missile) in its submarine version.

This fourth development firing of the missile manufactured by MBDA took place from a platform representing a submerged submarine at the DGA's Levant missile test center located in the Var region of southern France on 24th October 2012.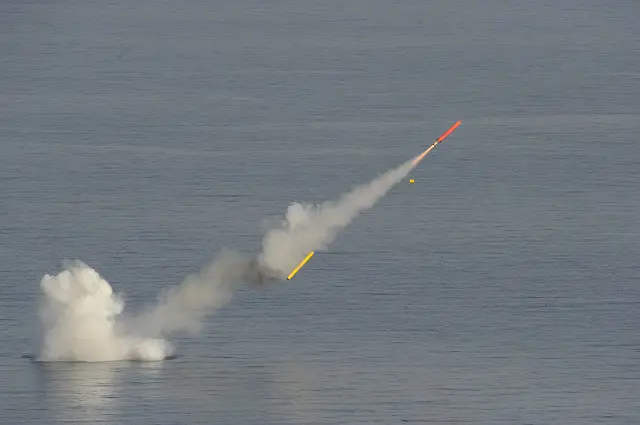 Picture of the MdCN test as it comes out of the water
(Picture: DGA)
All test objectives were successfully achieved, notably the validation of the GPS guidance mode in the terminal phase. This follows on from the validation of the infrared guidance mode which was achieved during the last firing which took place on 9th July 2012. MdCN will equip the French Navy's multi-mission frigates (FREMM) as of 2014 and its Barracuda submarines in around 2017.

Full size model of a MdCN coming out of a VLS tube on display during Euronaval 2012
With its range of some several hundred kilometers, MdCN is able to strike targets deep within enemy territory. Embarked on warships positioned safely on-station for extended periods in international waters, either overtly (surface frigates) or discretely (submerged submarines), MdCN is ideal for missions calling for the destruction of strategically high value infrastructure targets.
MBDA was awarded the MdCN contract by the French DGA at the end of 2006.
Source: DIRECTION GÉNÉRALE DE L'ARMEMENT