a
Naval Defense Industry News - UK
Second Astute class submarine (HMS Ambush) sets sail on sea trials
The 7,400 tonne attack submarine left the site in Barrow-in-Furness, Cumbria Saturday 15 September for Her Majesty's Naval Base (HMNB) Clyde, Faslane, which will become its operational base. This major milestone in the submarine programme is the point at which Ambush will begin to test its range of capabilities, under the control of Ambush Commanding Officer, Commander Peter Green and his crew.

BAE Systems Maritime – Submarines Managing Director John Hudson said: "This is the culmination of a tremendous amount of hard work from everyone at BAE Systems, our partners in the submarine enterprise and the hundreds of businesses in our supply chain network. Nuclear powered submarines are ferociously complicated, and it would not have been possible to reach the stage we are at today without the valued input of all those highly-skilled people.

"There now follows an extensive and rigorous period of testing during which we're confident Ambush will go on to demonstrate herself as a fantastic capability."

Commander Peter Green, said: "We are grateful to all the people who have worked hard to construct this vessel. The crew cannot wait to start sea trials and take this magnificent vessel a step closer to beginning operations. It is now time to start putting Ambush through her paces on sea trials and prove that this amazing piece of equipment is ready for operations."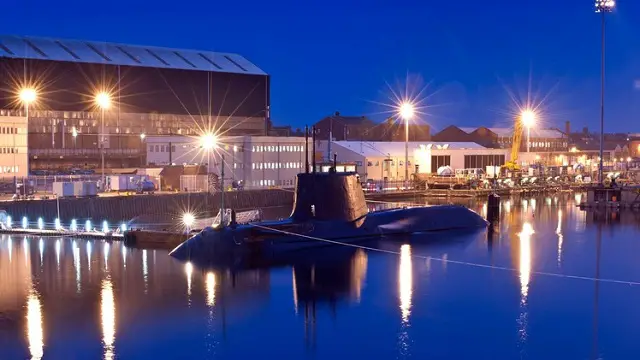 The second Astute class submarine Ambush set sail from BAE Systems last week to begin sea trials with the UK Royal Navy.
(Photo: BAE Systems)
Ambush is the second in a planned class of seven submarines and she follows sister vessel HMS Astute to HMNB Clyde, in Scotland, where the first in class has been based since leaving BAE Systems in 2009.

Minister for Defence, Equipment , Support and Technology Philip Dunne said: "Ambush and her sisters are the most powerful and advanced attack submarines ever ordered for the Royal Navy, they are needed by the fleet and they will play a vital role in the future defence of the UK. The completion of Ambush is a tribute to the hard work and commitment of the thousands of people employed in this country's world-class submarine industry."

The Astute class boasts a range of world class capabilities inside each 97 metre long hull. Powered by a Rolls-Royce nuclear propulsion system, the reactor never needs refuelling. The sonar system has the processing power of 2,000 laptops and can track ships 3,000 miles away. They are armed with both Tomahawk land attack missiles and Spearfish torpedoes and her missiles have a target range of 1,200 miles with accuracy measured in metres.

John Hudson added: "The skill at BAE Systems lies in the design, build, test and commissioning of the submarine and the complex integration of the highly sophisticated technology onboard, so everyone involved should feel justifiably proud of their achievements today."

HMS Astute is currently on sea trials and in March this year successfully test fired four Tomahawks, and six Spearfish torpedoes, including the first salvo by a British submarine for 15 years, during trials in America.