a
Naval Industry News - Russia
Landing Ship Project 11711 "Ivan Gren" to join Russian Navy in 2015
The Yantar shipyard in the Russia's western-most region, Kaliningrad, said Tuesday that the delivery of a new large landing ship to the Russian navy had been delayed until 2015. "The mooring trials are expected to begin in August-September of 2014, while the delivery of the ship to the navy is planned for 2015," said Yantar spokesman Sergei Mikhailov.
Ivan Gren was launched in 2012
.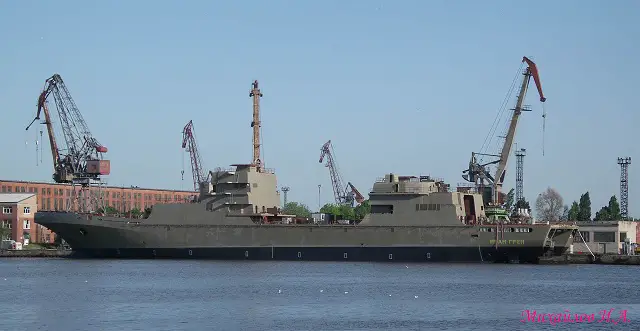 Project 11711 Ivan Gren Large Amphibious Assault Ship
The construction of the Ivan Gren landing ship started in 2004, but has been delayed due to a lack of financing and skilled workers.
The ship construction is still way behind the schedule despite reassurances by the navy's commander, Adm. Viktor Chirkov, that the vessel would be commissioned by the end of this year.
The $160 million vessel has a displacement of about 6,000 tons and will be able to carry up to 13 main battle tanks or 36 armored personnel carriers, or 300 naval infantry troops.
Plans to build three more ships of the same class are under consideration.
Along with Mistral-class amphibious ships being built in France, vessels of the Ivan Gren class will form the core of the Russian Navy's landing fleet, according to the Defense Ministry.