a
Naval Forces News - USA
USS Fort Worth (LCS 3) Littoral Combat Ship Launches First MQ-8B UAV, Demonstrates Capability
USS Fort Worth (LCS 3)
conducted dynamic interface operations on the Point Mugu Test Range Nov. 5-13 with the Navy's Vertical Takeoff Unmanned Aerial Vehicle (VTUAV) known as the MQ-8 Fire Scout. Although Fire Scouts have been used in the fleet onboard frigates, LCS is the first platform designed from the keel up to integrate and operate these unmanned helicopters.

USS Fort Worth (LCS 3), Freedom class Littoral Combat Ship
Picutre: US Navy

"Everything from the consoles in MCC (Mission Control Center), the displays, and antennas to the flight deck and UCARS were made for us to interface with Fire Scout" said Lt. Mike Chesnut, the combat systems officer for LCS Crew 104, "The Juggernauts", who are currently the "on-hull" crew for Fort Worth.

UCARS is the UAV Common Automated Recovery System, a present day "tractor beam" that locks on to the Fire Scout from miles away and brings it safely on deck without human intervention.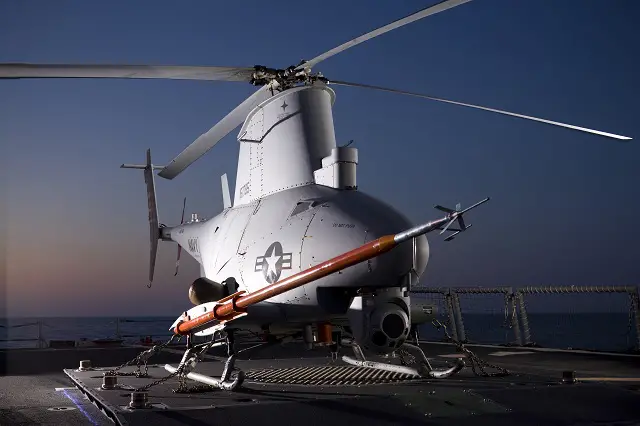 Northrop Grumman Fire Scout MQ-8B VTOL UAV during sea trials with US Navy
(picture: Northrop Grumman)

The Fire Scout, replete with the most modern electro-optical and infrared cameras, can extend the ship's senor range and greatly increase maritime awareness by relaying information back to the ship via data link.
"It's exciting to integrate new technology with LCS. That's what this platform is about, flexibility and innovation," said Cmdr. Kendall Bridgewater, Fort Worth's executive officer.
Fort Worth is scheduled to deploy next year with "The Mad Hatters" of HSM-35, Det. 1, the Navy's first "composite" Air Detachment which will include both a manned SH-60R helicopter as well as unmanned Fire Scouts

Link to Freedom class Littoral Combat Ship technical datasheet