a
Naval Industry News - Australia
BMT completes a risk management study for the Australian Government's Rizzo Reform Program
Melbourne-based BMT Design & Technology (BMT), a subsidiary of BMT Group Ltd, has completed a risk management study for the Australian Government's Rizzo Reform Program which involves a plan to reform support ship repair and management practices within Navy and Defence Materiel Organisation (DMO).

As a joint Navy and DMO initiative, the Rizzo Reform Program has an active project team to reform risk management. The project team was formed to understand, investigate and evolve risk management practices across all functions to achieve an Integrated Risk Management framework. BMT was contracted to advance the understanding of current practices in the raising, documenting, processing, managing and reporting of risks across all business units.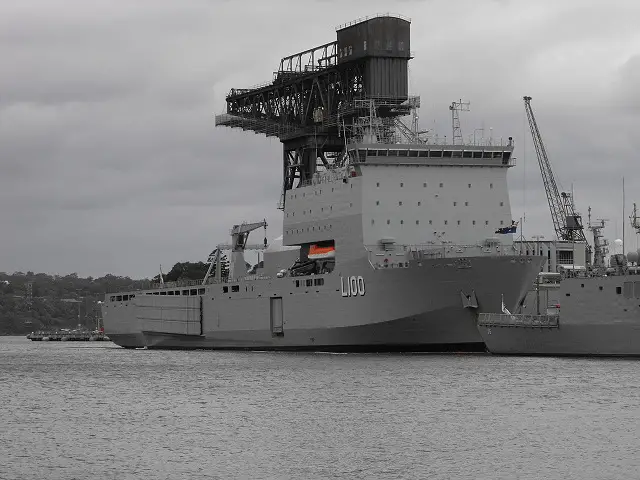 HMAS Choules (L100) is a Bay-class landing ship that served with the Royal Fleet Auxiliary (RFA) from 2006 to 2011, before being transferred to the Royal Australian Navy (RAN).
(image: BMT Group)
The risk domains included Mission risk and risks to operational effectiveness, safety & environment, logistics and supply chain, training and personnel force, and materiel condition management. The study investigated official and unofficial software and data systems supporting these functions, while also providing assessment and mapping of the way in which risks were understood and reported within and between business units and the various levels of management in Navy and DMO.

Chris Luxmoore, Senior Engineer at BMT Design & Technology comments: "As part of this process it was important for us to engage with stakeholders in Navy and DMO, providing us with valuable knowledge of simple, as well as complex issues that people are facing in their daily work. Best practices were analysed and were duly considered with regards to the policy and required systems development. The study provided a snapshot of the risk management framework across the organization enabling the DMO to focus their attention on particular areas that require improvement and to see how these improvements might interact across the business."

An overall matrix presented all of the relevant tools and software currently in use, and their effectiveness for use in risk management. A high level process map illustrated the interaction of these tools and systems across Navy and DMO and the risk escalation process through levels of management. Both tools provided a benchmark understanding from which calculated decisions could be made to support the effective integration of risk management systems across the different organizations.