a
Naval Forces News - USA, Japan
Japan's Maritime Self-Defense Forces to get 2 more Aegis Destroyers
According to Japanese newspaper The Yomiuri Shimbun, the Japanese government will start building two Aegis-equipped destroyers with the latest missile defense systems starting next fiscal year, in light of the progress seen in missile development by North Koreathe. The two new vessel will join an exisiting fleet of 6 Aegis vessels in the Japanese Maritime Self Defense Forces (JMSDF): 4 Kongo class Destroyers and 2 Atago class Destroyers.

It is not clear yet if the two new vessels will be a new class of destroyer or one of the two existing classes. Navy Recognition believes the two new hulls will be Atago class. Construction is set to begin next year for the first vessel and in 2015 for the second hull: This gives no time at all for any design work which would be mandatory if JMSDF had plan for a brand new class of destroyer.

The Atago class of destroyer is an upgrade of the Kongo class. Both vessels are fitted with the AEGIS combat system and SPY-1D radar both produced by Lockheed Martin.

JMSDF guided-missile destroyer JDS Atago (DDG 177). Note the hangar at the stern.
Picture: US Navy
Atago class
In 2000, the Japan Defense Agency Maritime Staff Office included another two Aegis ships in its five-year budget on top of the four Kongo class destroyers originally ordered. The Atago class is fundamentally an improved and larger version of Kongo class destroyers.

The vessels have all of the armament of the Kongo class but received a hangar space for to accomodate two SH-60 helicopters. Atago class destroyers displace 10,000 tons full load. JDS Atego DD178, was commissioned in 2007 and JDS Ashigara DD-178 was commissioned in 2008.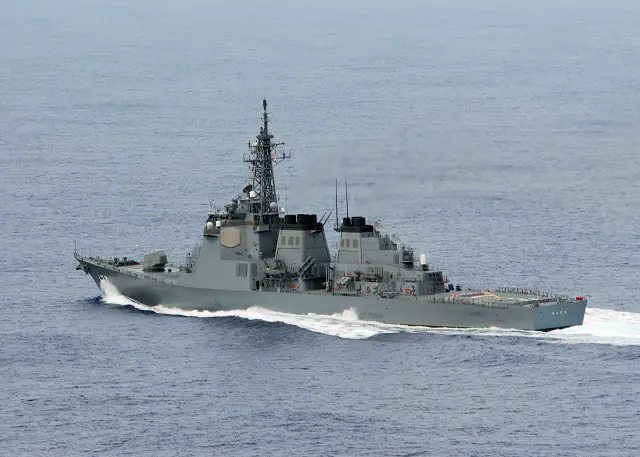 JMSDF guided-missile destroyer JDS Kongo (DDG 173). Note: No hangar at the stern.
Picture: US Navy
Kongo class
The Kongo class of guided missile destroyers serves as the core ship of the JMSDF's Escort Fleet. They are largely based on the United States Navy's Arleigh Burke class (Flight I).

4 Kongo class destroyers were commissioned between 1993 and 1998. They displace 9,500 tons full load.

Weapons:
• RGM-84 Harpoon SSM
• 61 VLS forward 29 VLS aft for: SM-2MR SAM, SM-3 Block IA ABM, RUM-139 Vertical Launch ASROC
• 1x 5 inch (127 mm) Oto-Melara main gun
• 2x 20 mm Phalanx CIWS
• 2x Type 68 triple torpedo tubes (6x Mk-46 or Type 73 torpedoes)