a
Naval Forces News - USA
US Navy funds two further Independence class Littoral Combat Ships, with option added for a third
Austal Limited (Austal) is pleased to announce that construction of two additional Littoral Combat Ships has been funded by the U.S. Navy. The vessels, LCS 22 and LCS 24, will be the ninth and tenth
Independence
variant Littoral Combat Ships built by Austal as prime contractor under its existing 10-vessel contract with the U.S. Navy. Funding for LCS 22 and LCS 24 adds approximately US$691 million to Austal's order book, raising it to a total of A$3.1 billion.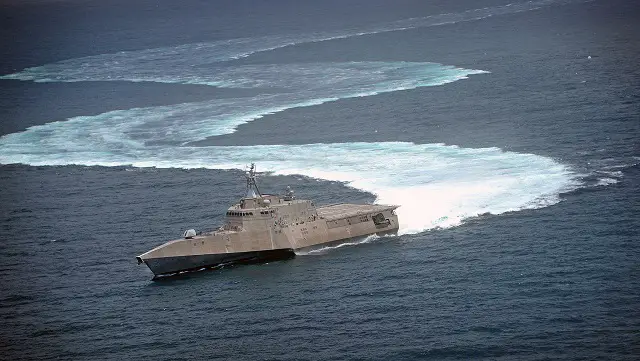 The littoral combat ship USS Independence (LCS 2) conducting full power propulsion and maneuvering tests in the Pacific Ocean off the coast of San Diego. (file U.S. Navy photo by Mass Communication Specialist 2nd Class Daniel M. Young/Released)

Further to funding the two vessels under the existing contract, the U.S. Navy has also included an option for the construction of an additional Littoral Combat Ship, LCS 26, which can be exercised in CY2016. If the option is exercised, it would bring the total Independence-variant LCS constructed by Austal to 13 ships; 2 as subcontractor (LCS 2 and LCS 4) and 11 as the prime contractor (LCS 6 onwards).

Austal Chief Executive Officer Andrew Bellamy said: "It is pleasing to see the Navy's confidence in Austal's ability to produce these high quality vessels.

We have developed considerable know-how as the LCS program has matured and look forward to constructing the newly funded ships, which secure work at our US shipyard through to CY2020."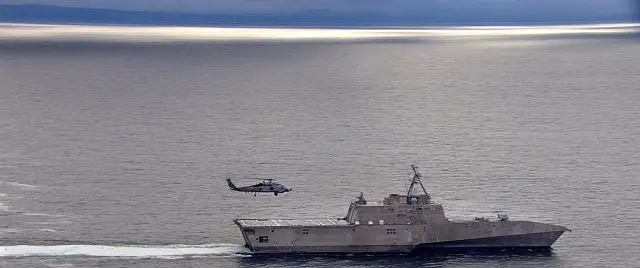 Littoral Combat Ship USS Gabriele Gifford (LCS 10) with an MH-60R landing. Picture: Austal

Austal has seven LCS at various stages of construction at its shipyard in Mobile, Alabama, under a 10 vessel, US$3.5 billion contract the U.S. Navy awarded to Austal in 2010. This includes USS Jackson (LCS 6) - Austal's first under the contract - which has begun sea trials with delivery around the middle of CY2015, and Montgomery (LCS 8), which is preparing for sea trials and delivery by the end of the year.
Meanwhile, Austal is also progressing well under its $1.6 billion contract to construct ten 103-meter Joint High Speed Vessels (JHSV) for the U.S. Navy. Four JHSV have been delivered, while USNS Trenton (JHSV 5) has successfully completed Acceptance Trials and is scheduled to be delivered later this month. Three further Joint High Speed Vessels are under construction at Austal's US shipyard.
Indepdence class LCS are trimaran-hulled small surface combatants built for high speed, which can conduct agile and mission-focused operations in the complex littoral environment. They can be rapidly reconfigured with specific Mission Modules to conduct Surface Warfare, Mine Countermeasures and Anti-submarine warfare.
Link to Independence class Littoral Combat Ship technical datasheet